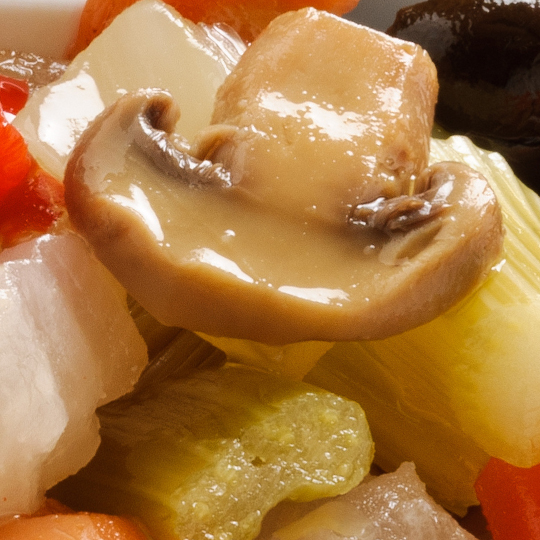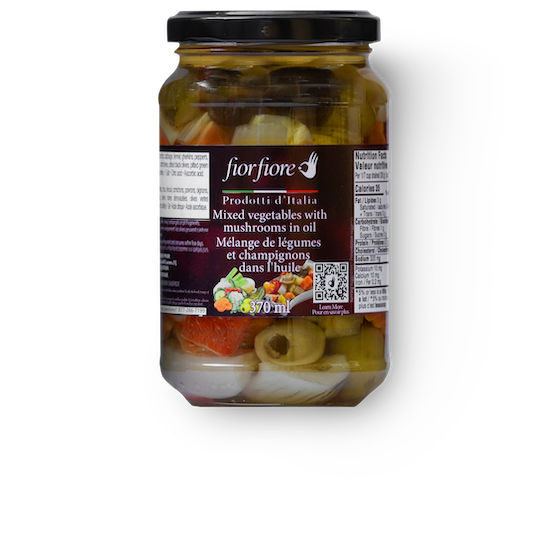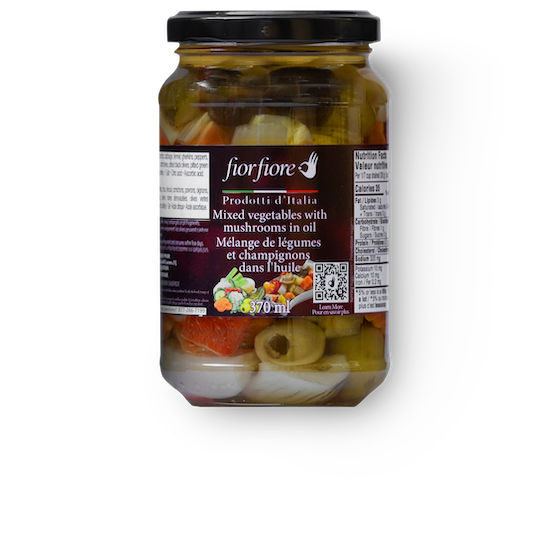 Mixed vegetables with mushrooms in oil
Preserved vegetables are a key element on the Italian dinner table. Made following the traditional recipe, this mixed appetizer allows you to enjoy the texture and taste of typically seasonal vegetables throughout the year.
It has many uses. It can be served as an appetizer, accompanying meats and cheeses or used as a side dish for meat and fish main courses.
A perfect mix of onions, carrots, artichokes, olives, cucumbers and mushrooms that brings imagination, joy and flavor to the table.
WE KEEP THE ITALIAN GASTRONOMIC TRADITION
MAINTAINING THE ITALIAN GASTRONOMIC TRADITION: Our simple and delicious recipes have been passed down from generation to generation, preserving Italian gastronomic tradition. Now, past and future merge, with ancient flavors and modern day creativity creating authentic Italian fare and re-imagined classics, for everyday enjoyment. Widely used by Italians for everyday cooking, Fiorfiore bruschetta, pate and condiments offer an authentic Italian culinary experience of the highest quality.
EXCEPTIONAL QUALITY RAW INGREDIENTS: We care about our ingredients. Every single one is rigorously selected and crops are consistently monitored, because we understand that quality ingredients translate to the highest quality food.
WE KNOW EVERY SINGLE PRODUCT: Throughout growing, pre-production, production and post-production, all of our products are closely monitored, to ensure the highest quality and food safety that our customers expect.
THE TRADITIONAL METHOD MAKES THE DIFFERENCE: Each Fiorfiore product is made with traditional methods and the most advanced technologies to bring to you tastier, safer, and more convenient authentic Italian foods for your everyday enjoyment.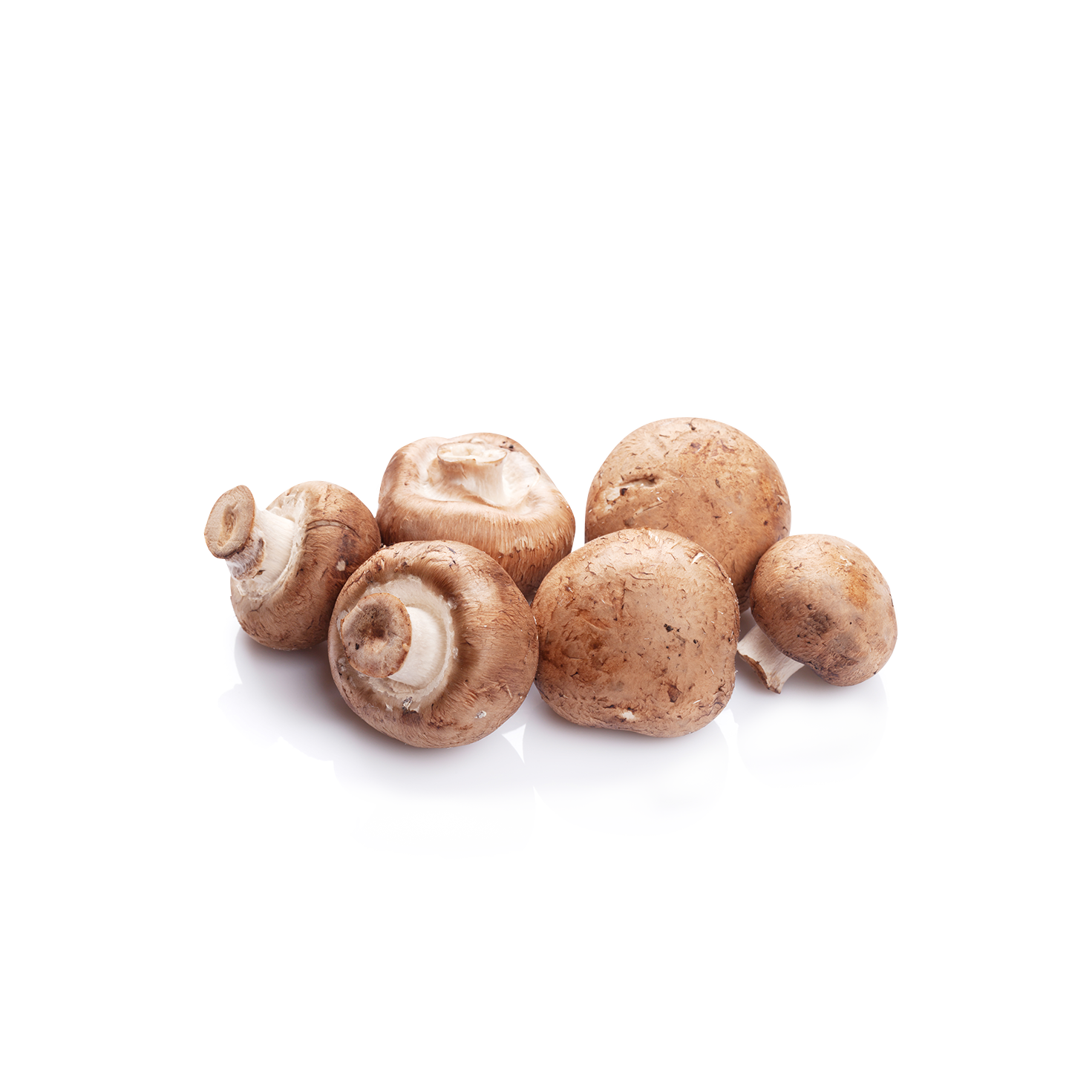 Mixed vegetables and mushrooms (carrots, cabbage, fennel, gherkins, peppers, onions, cultivated mushrooms (Agaricus bisporus), artichokes, pitted black olives, pitted green olives), Sunflower oil, Wine vinegar (contains sulphites ), Salt, Citric acid, Ascorbic acid.
Contains: Sulphites.

| | Nutrition Facts | Per 1/7 cup drained (30 g) | %Daily Value* | Read more |
| --- | --- | --- | --- | --- |
| | Calories | 35 | | |
| | Fat | 3 g | 4% | |
| | Saturated | 0,4 g | 2% | |
| | Trans | 0 g | | |
| | Carbohydrate | 2 g | | |
| | Fibre | 1 g | 4% | |
| | Sugars | 0 g | 0% | |
| | Protein | 0,3 g | | |
| | Cholesterol | 0 mg | 1% | |
| | Sodium | 320 mg | 14% | |
| | Potassium | 10 mg | 1% | |
| | Calcium | 10 mg | 1% | |
| | Iron | 0,2 mg | 1% | |
---
*5% or less is a little, 15% or more is a lot.
Appetizer: An Italian Story
The appetizer is usually the most delicious and fun food to have. It is the one that has given more vent to the creativity and fantasy of chefs. The term appetizer in Italian is antipasto, which derives from the Latin "ante-pastum", with which the ancient Romans indicated a series of simple, light and easy-to-prepare dishes that preceded the meal. In addition to initiating the "convivium", they also served to stimulate the appetite, featuring vegetable crudités accompanied by various sauces, or candied fruit, especially figs.

In the Middle Ages the appetizer fell into disuse until the sixteenth century where, on the tables of wealthy Italians (and immediately followed by the French too), an art was developed and chefs competed to create delicious dishes.

The appetizer was also in use among poor households: popular Italian creativity developed a series of recipes, mostly using seasonal vegetables or recycling the ingredients of the day before, for example dry bread in bruschetta.

Today, in Italy, each region has its own typical appetizers. There are many types of them from north to south, from simple to sophisticated, each with the traditional ingredients of its territory.
Average rating:
0 reviews