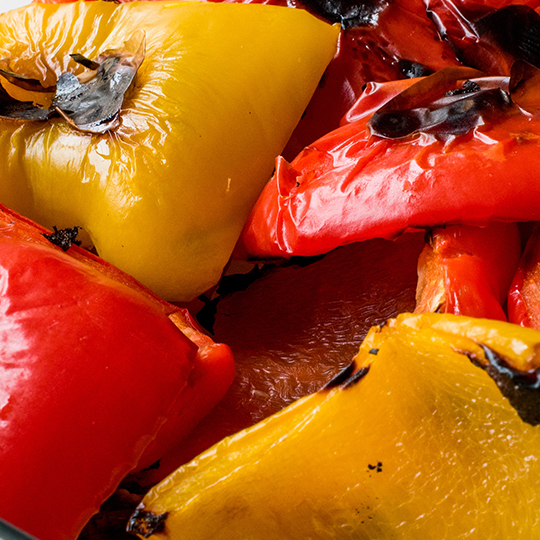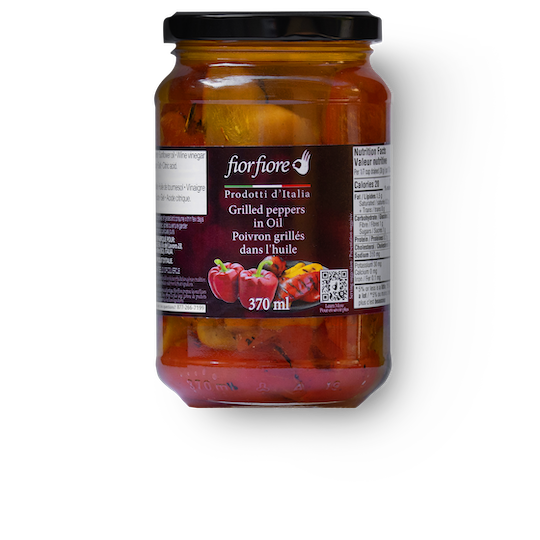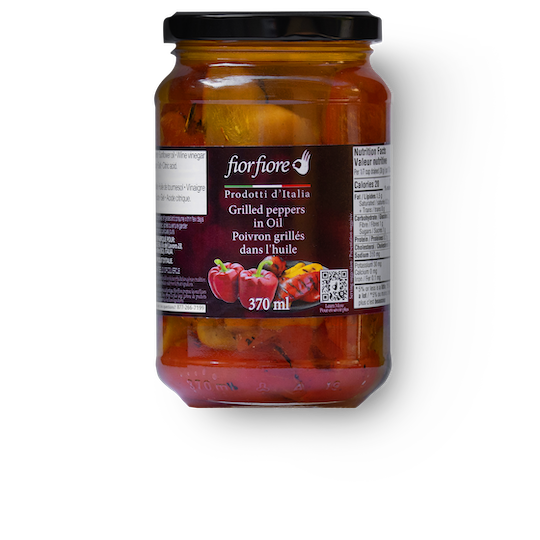 Grilled peppers in sunflower Oil
Grilled peppers are full of taste and very appetizing as a side dish that goes well with everything, as a light but flavorful second course or simply to enrich a sandwich.
Our peppers are harvested and grilled the same day. Their skin is removed so that they are perfectly digestible!
Colorful, with a rich and tasty pulp, they will be a perfect companion for your recipes
WE KEEP THE ITALIAN GASTRONOMIC TRADITION
MAINTAINING THE ITALIAN GASTRONOMIC TRADITION: Our simple and delicious recipes have been passed down from generation to generation, preserving Italian gastronomic tradition. Now, past and future merge, with ancient flavors and modern day creativity creating authentic Italian fare and re-imagined classics, for everyday enjoyment. Widely used by Italians for everyday cooking, Fiorfiore bruschetta, pate and condiments offer an authentic Italian culinary experience of the highest quality.
EXCEPTIONAL QUALITY RAW INGREDIENTS: We care about our ingredients. Every single one is rigorously selected and crops are consistently monitored, because we understand that quality ingredients translate to the highest quality food.
WE KNOW EVERY SINGLE PRODUCT: Throughout growing, pre-production, production and post-production, all of our products are closely monitored, to ensure the highest quality and food safety that our customers expect.
THE TRADITIONAL METHOD MAKES THE DIFFERENCE: Each Fiorfiore product is made with traditional methods and the most advanced technologies to bring to you tastier, safer, and more convenient authentic Italian foods for your everyday enjoyment.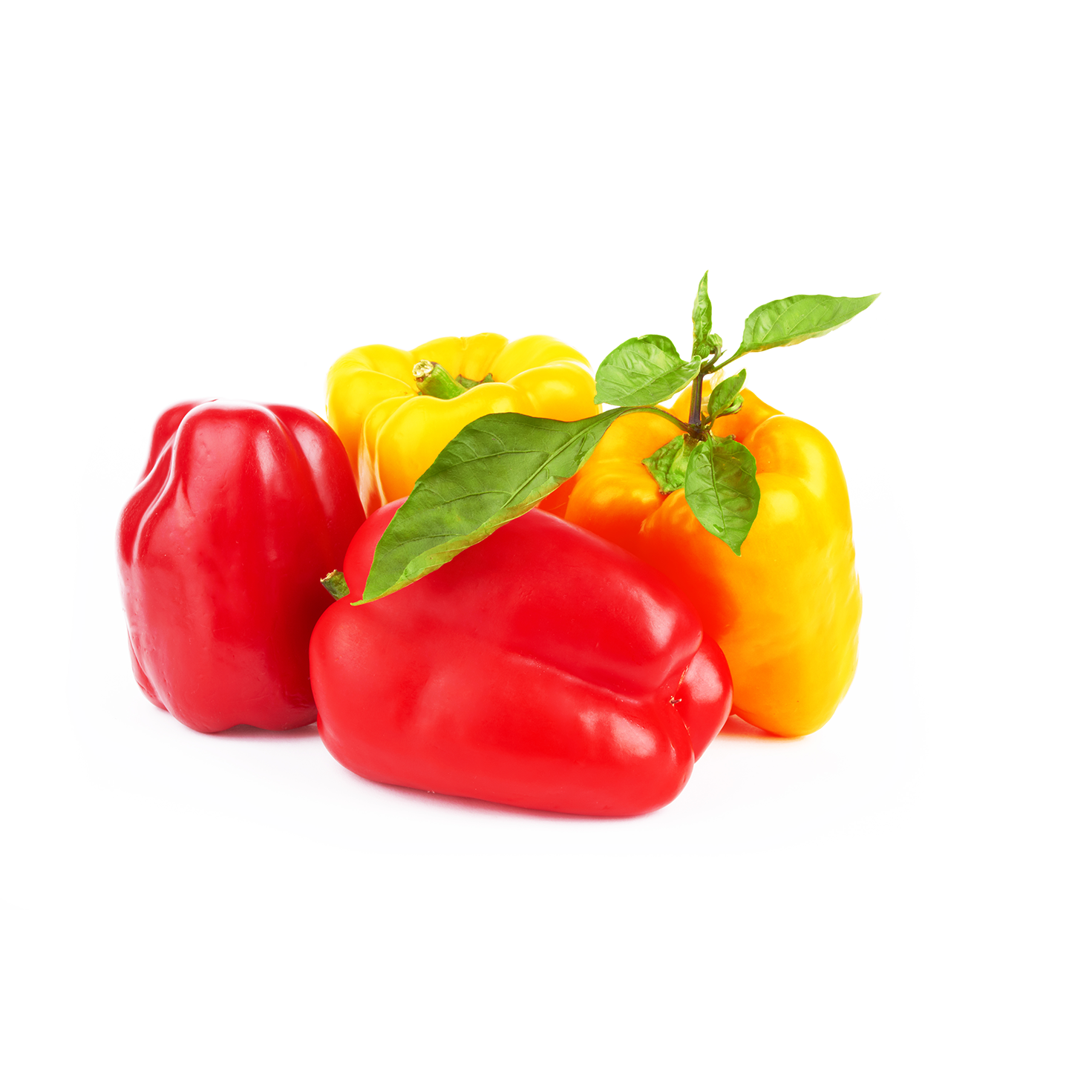 Grilled peppers, Sunflower oil, Wine vinegar(contains sulphites), Sugar, Salt, Citric acid. Contains:Sulphites.

Store in a cool dry place, once opened keep refrigerated and consume within few days.



| | Nutrition Facts | Per 1/7 cup drained (30 g) | %Daily Value* | Read more |
| --- | --- | --- | --- | --- |
| | Calories | 20 | | |
| | Fat | 1,5 g | 2% | |
| | Saturated | 0,2 g | 1% | |
| |    Trans | 0 g | | |
| | Carbohydrate | 2 g | | |
| | Fibre | 1 g | 4% | |
| | Sugars | 1 g | 1% | |
| | Protein | 0,2 g | | |
| | Cholesterol | 0 mg | 0% | |
| | Sodium | 310 mg | 13% | |
| | Potassium | 30 mg | 1% | |
| | Calcium | 0 mg | 0% | |
| | Iron | 0,1 mg | 1% | |
---
*5% or less is a little, 15% or more is a lot.
The Myth Of The Birth Of The Sunflower
«Still the lov'd object the fond leafs pursue, still move their root, the moving Sun to view» (from Book IV of Ovid's Metamorphoses).

Sunflower cultivation is widespread throughout Italy thanks to its suitable climatic conditions. The beneficial properties of its seeds and oil have been known since Roman times. In Book IV of The Metamorphoses, the poet Ovid tells us the legend of the birth of this simple and beautiful flower that always looks at the sun.

He tells us about Clytie, a nymph in love with Helios, god of the Sun. Every day she tried to see him and followed him with her eyes, while he was driving his chariot of fire. Helios eventually succumbed to the girl but then fell in love with Leucothoe and abandoned Clytie.

The girl was angered and told Leucothoe's father about the affair. The father had her daughter put to death for having been defiled. Helios hated Clytie for that so she cried for nine days and nine nights, feeding only on dew and tears, lying on the bare earth of a field and staring at the sky always looking for the face of Helios.

The nymph's body stiffened and turned into a thin but strong stem, her feet stuck in the ground and her hair turned yellow.

The pity of the gods transformed Clytie into a beautiful flower, the sunflower, which turns on itself following the movement of the sun. Even today the nymph continues to look with her gaze for her love crossing the sky.
Average rating:
0 reviews