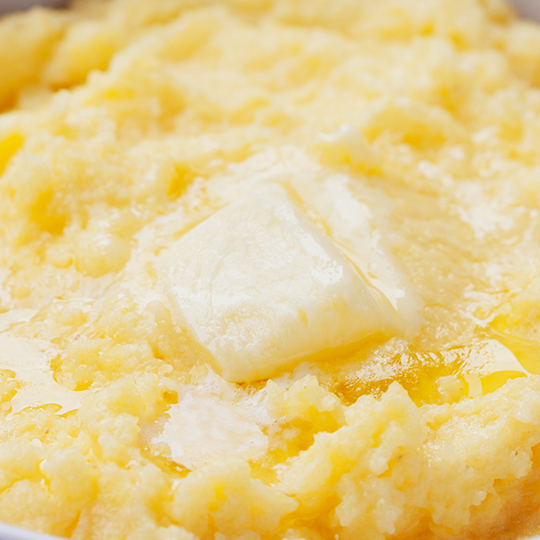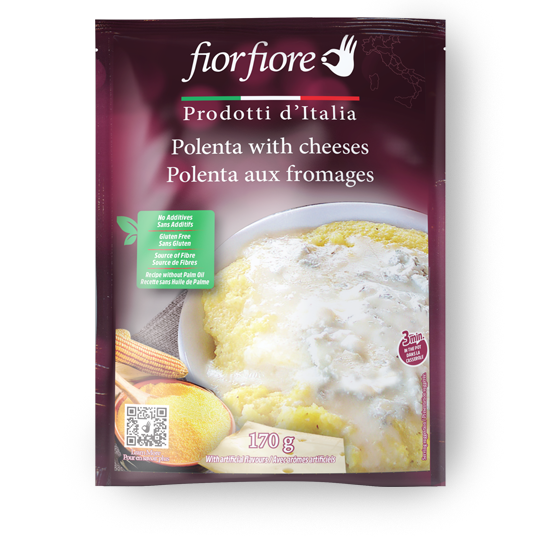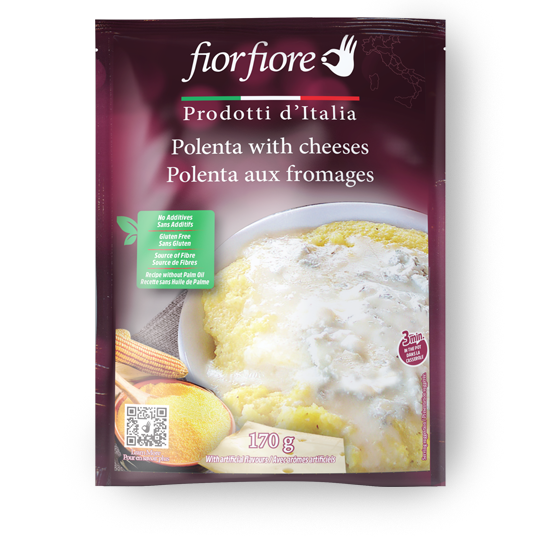 Rich, filling and perfect for warming up the body and soul: polenta with cheese is a typical northern Italian dish to enjoy with family and friends. Try the original recipe containing cornmeal that's certified GMO-, gluten- and additive-free, and is rich in fibre to aid digestion. Genuine, honest taste meets intense cheesy flavour. An absolute must-try Italian experience,quick and easy to cook on the stove or in the microwave.
THE AUTHENTIC FLAVOUR OF TRADITIONAL ITALIAN RECIPES... WHENEVER, WHEREVER!
FOR THOSE WHO LACK TIME AND AREN'T WILLING TO GIVE UP AUTHENTIC ITALIAN TASTE Only carefully selected, high-quality ingredients without additives or preservatives can bring out the essence of traditional recipes, plain and simple. Awide range of ready-to-heat products, created and designed with convenience in mind. Quick to prepare, thanks to innovative preservation techniques, and oh so tasty!
NO ADDITIVES, PRESERVATIVES OR PALM OIL: JUST PREMIUM INGREDIENTS Fiorfiore Ready Meals contain no additives: this line of products is free of monosodium glutamate, flavourings and preservatives. Nothing but real Italian taste.
AS GOOD AS FRESH Additives with different functions are widely used in the food industry: the most common is monosodium glutamate, a flavour enhancer and an essential component of stock cubes. Its purpose is to "spice up" recipes and sometimes make up for a lack of taste. Unfortunately, this additive dulls all flavours with an equal "base". Without monosodium glutamate, flavour can only be obtained via top-quality ingredients and richer recipes, in order for food to taste as good as fresh.
FREEZE-DRYING: ONE OF THE SAFEST PRESERVATION TECHNIQUES Freeze-drying is among the safest and most advanced modern preservation techniques. It uses a rapid drop in temperature to eliminate water from food while keeping flavours and nutritional values intact, with no need for additives or preservatives.
25 YEARS OF FREEZE-DRIED QUALITY AND PASSION FOR ITALIAN GASTRONOMIC CULTURE Fiorfiore producers specialize in the development and production of quality, ready-to-cook foods containing the best freeze-dried ingredients, selected and brought together to reflect Italian culinary culture. Fiorfiore Ready Meals go through a series of thorough and stringent checks to ensure quality, taste and wholesomeness. Special scanners and auditors ensure that packaged goods contain only the healthy, quality ingredients chosen for recipes.

Certifications:
• Non-GMO with "Bureau Veritas" for polenta
• IFS with "Bureau Veritas": Higher level
• BRC with "Bureau Veritas": Grade A
• Ministerial authorization in accordance with Italian Legislative Decree 27.1.92 no. 111
• HACCP procedures since 1999
• Certified organic by CCPB, no. CZ/CC 03054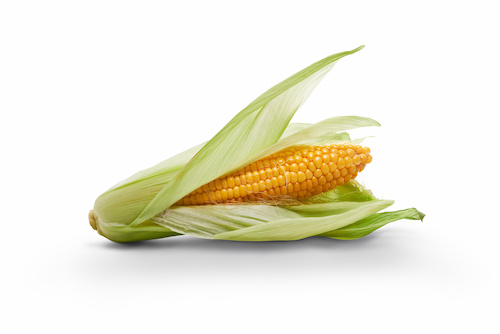 Pre-cooked corn flour, Cheese powder preparation (cheese [milk, salt, rennet], whey, caseinates, salt, artificial flavours) Skim milk powder, Salt, Dehydrated cream, Yeast extract, Dehydrated onion, Artificial flavours, Dehydrated garlic. Contains: Milk.
Bring to the boil 2 cups of water and a knob of butter in a saucepan.
When water boils, add 1 cup of milk and add the pouch content by stirring with a whisk.
Cook for about 3 minutes or at least, until water has completely absorbed.
| | Nutrition Facts | Per 1/3 pack (57 g) | %Daily Value* | Read more |
| --- | --- | --- | --- | --- |
| | Calories | 190 | | |
| | Fat | 2 g | 3% | |
| | Saturated | 1 g | 5% | |
| | Trans | 0g | 5% | |
| | Carbohydrate | 36 g | | |
| | Fibre | 2 g | 7% | |
| | Sugars | 7 g | 7% | |
| | Protein | 7 g | | |
| | Cholesterol | 0 mg | | |
| | Sodium | 1970 mg | 85 % | |
| | Potassium | 225 mg | 5 % | |
| | Calcium | 75 mg | 7% | |
| | Iron | 0.2 mg | 1% | |
---
*5% or less is a little, 15% or more is a lot. In Bergamo, it isn't a party without polenta!
Polenta is associated with Bergamo and the whole of northern Italy in general. Simply put, polenta is to the city of Bergamo what pizza is to Naples.

Corn was brought to Europe in the 17th century by the Venetians, remarkable sailors who traded with faraway lands. The Italians immediately called it "wheat with large, yellow grains" and, according to the scholar Giovanni Beggio, it was first sowed in Europe in 1554, in Venice's surrounding countryside.It wasn't long before corn was adopted throughout the north and polenta became the main dish in certain parts. For centuries, polenta solved major food problems for the less fortunate in northern Italy and many other parts of Europe.

Today in Bergamo, polenta is a celebratory dish: peasant food by definition, it was associated with hunger, famine and disease for centuries before becoming a symbol of joy, a repository of ancient knowledge, and part of the city's identity.

Bergamo, Lombardy.
Average rating:
0 reviews