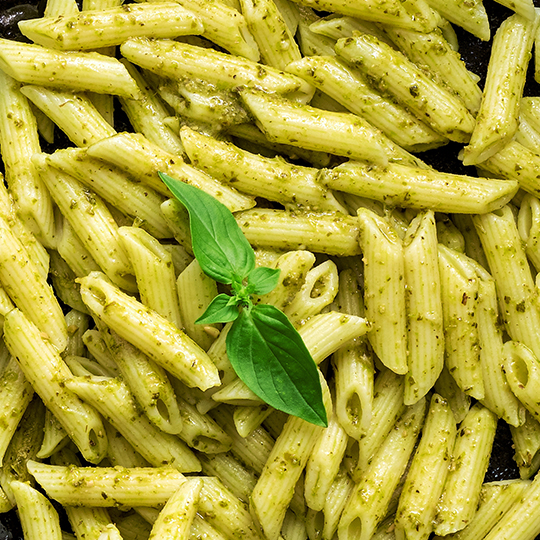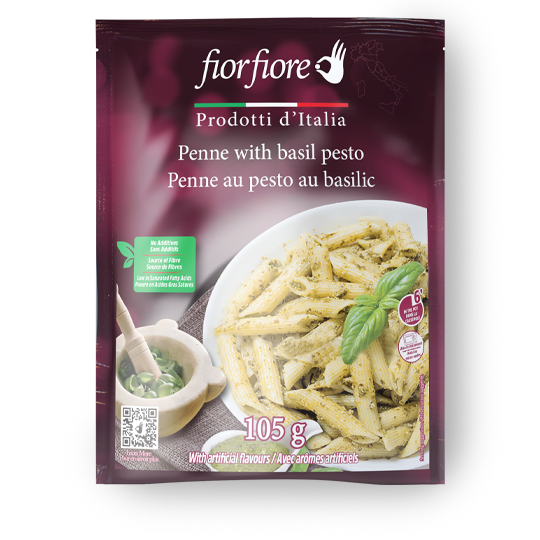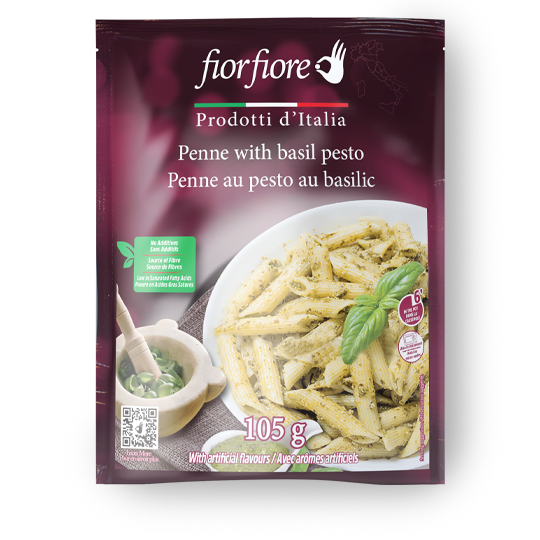 Experience the authenticity of traditional Italian pasta with pesto, ready in a flash with the best pasta and the finest ingredients. Quick and easy to cook on the stove or in the microwave, and strictly free of additives and palm oil. Discover the aroma and taste of real Italian pesto, which originated in the city of Genoa and is popular worldwide. The secret? It's all in the quality of the ingredients, like Mediterranean basil.
THE AUTHENTIC FLAVOUR OF TRADITIONAL ITALIAN RECIPES... WHENEVER, WHEREVER!
FOR THOSE WHO LACK TIME AND AREN'T WILLING TO GIVE UP AUTHENTIC ITALIAN TASTE Only carefully selected, high-quality ingredients without additives or preservatives can bring out the essence of traditional recipes, plain and simple. Awide range of ready-to-heat products, created and designed with convenience in mind. Quick to prepare, thanks to innovative preservation techniques, and oh so tasty!
NO ADDITIVES, PRESERVATIVES OR PALM OIL: JUST PREMIUM INGREDIENTS Fiorfiore Ready Meals contain no additives: this line of products is free of monosodium glutamate, flavourings and preservatives. Nothing but real Italian taste.
AS GOOD AS FRESH Additives with different functions are widely used in the food industry: the most common is monosodium glutamate, a flavour enhancer and an essential component of stock cubes. Its purpose is to "spice up" recipes and sometimes make up for a lack of taste. Unfortunately, this additive dulls all flavours with an equal "base". Without monosodium glutamate, flavour can only be obtained via top-quality ingredients and richer recipes, in order for food to taste as good as fresh.
FREEZE-DRYING: ONE OF THE SAFEST PRESERVATION TECHNIQUES Freeze-drying is among the safest and most advanced modern preservation techniques. It uses a rapid drop in temperature to eliminate water from food while keeping flavours and nutritional values intact, with no need for additives or preservatives.
25 YEARS OF FREEZE-DRIED QUALITY AND PASSION FOR ITALIAN GASTRONOMIC CULTURE Fiorfiore producers specialize in the development and production of quality, ready-to-cook foods containing the best freeze-dried ingredients, selected and brought together to reflect Italian culinary culture. Fiorfiore Ready Meals go through a series of thorough and stringent checks to ensure quality, taste and wholesomeness. Special scanners and auditors ensure that packaged goods contain only the healthy, quality ingredients chosen for recipes.

Certifications:
• Non-GMO with "Bureau Veritas" for polenta
• IFS with "Bureau Veritas": Higher level
• BRC with "Bureau Veritas": Grade A
• Ministerial authorization in accordance with Italian Legislative Decree 27.1.92 no. 111
• HACCP procedures since 1999
• Certified organic by CCPB, no. CZ/CC 03054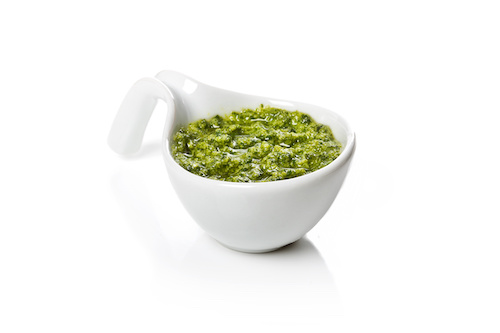 Durum wheat semolina pasta (durum wheat semolina, water) Cheese preparation (cheese [milk, salt, rennet], whey, salt, artificial flavours), Rice flour, Skim milk powder, Corn starch, Dried basil, Sugars (lactose), Artificial flavours, Salt, Yeast extract, Dried garlic, Dried spinach. Contains: Wheat, Milk.
Bring 7/8 cup of water, 3/4 cup of milk and a teaspoon of butter or margarine to a boil in a wide, low pan.
When water boils, pour contents of the bag into the pan and stir.
Cook for 6 minutes on a medium heat. Wait for 1 minute before serve.
| | Nutrition Facts | Per 2/3 pack (70 g) | %Daily Value* | Read more |
| --- | --- | --- | --- | --- |
| | Calories | 250 | | |
| | Fat | 1 g | 1% | |
| | Saturated | 0.4 g | 2% | |
| | Trans | 0 g | 2% | |
| | Carbohydrate | 49 g | | |
| | Fibre | 4 g | 14% | |
| | Sugars | 7 g | 7% | |
| | Protein | 10g | | |
| | Cholesterol | 0 mg | | |
| | Sodium | 590 mg | 26% | |
| | Potassium | 200 mg | 4% | |
| | Calcium | 50 mg | 5% | |
| | Iron | 0.75 mg | 5% | |
---
*5% or less is a little, 15% or more is a lot. Genoa, home of pesto
What's the history of pesto?: To understand the history of pesto, you need to go back to the 12th and 13th centuries, when Genoa, Capital of the Region, was a republic that included the islands of Corsica and Sardinia. Since then, pesto has been inexorably linked with Genoa's culture.

Today, the city hosts a bi-annual World Pesto Championship, open to competitors from around the world. Some passionate defenders of the sauce want to have it added to UNESCO's Intangible Cultural Heritage list.

How do you make pesto? The word pesto, derives from the verb pestare (to pound or crush). The sauce is made by pounding the ingredients with a pestle and mortar.
First, crushing the garlic and sea salt.

Then, once the garlic starts to soften, adding the pine nuts. Next comes the basil, which should be crushed gently against the side of the mortar not smashed into the base. Finally, adding the cheese and mixing with olive oil. The finished pesto should be creamy rather than an oily suspension. As with an exact recipe, the art of making great pesto is in balancing the ingredients required by the Ligurian tradition.

Port of Genoa, Liguria.
Average rating:
0 reviews