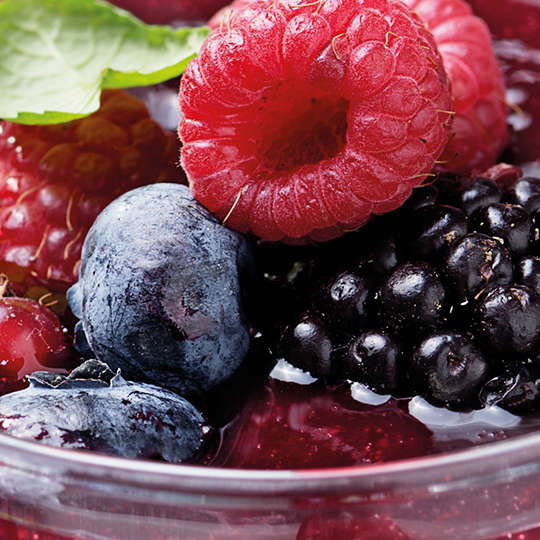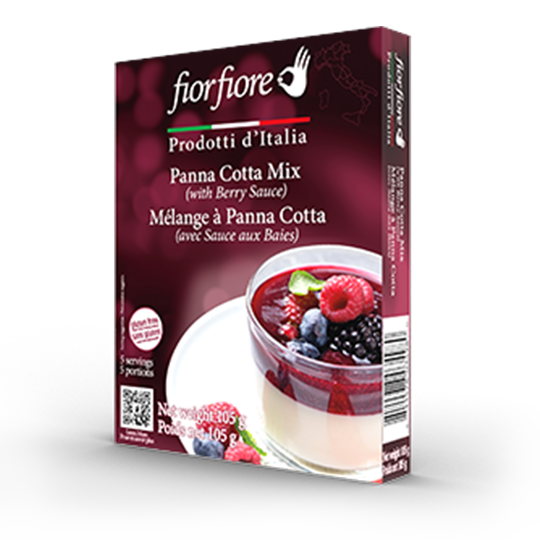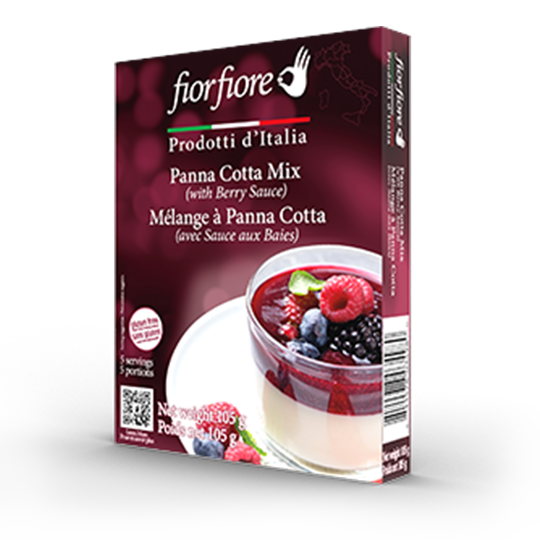 Panna Cotta Mix (with Berry Sauce)
Panna cotta is a traditional Italian dessert originating in the Piedmont region and is one of the most well-known and loved savouring-your-spoon-with-every-bite desserts, not only in Italy but worldwide, due to its delicate flavour. It has the consistency of a pudding: smooth, with a creamy taste. This unmistakable delicacy is enhanced when served cold. Fior Fiore offers our gluten-free Panna Cotta mix with berry topping so that you can quickly and easily prepare this delicious Italian dessert. The full-bodied texture of the panna cotta and the distinctive berry garnish make this dessert one of a kind.
Dessert Mixes For Traditional Recipes: Delicious From The First To The Last Bite
ITALIAN CREATIVITY IN THE KITCHEN SINCE 1939. Starting in a small shop where few preparations for bread and desserts were made to the most advanced production methods, always following the ancient recipes, now available for your table.
QUALITY AND INTEGRATED SYSTEM CONTROL. Training, research and high specialization to transform the most innovative ideas into simple dishes to prepare and for all to enjoy.
ALWAYS INNOVATIVE TECHNOLOGY. Production processes are constantly being improved to meet the most modern and highest global standards.
FOOD SAFETY: each phase of the production process is certified and responds to the most demanding protocols of quality and to the selection of ingredients and methods used.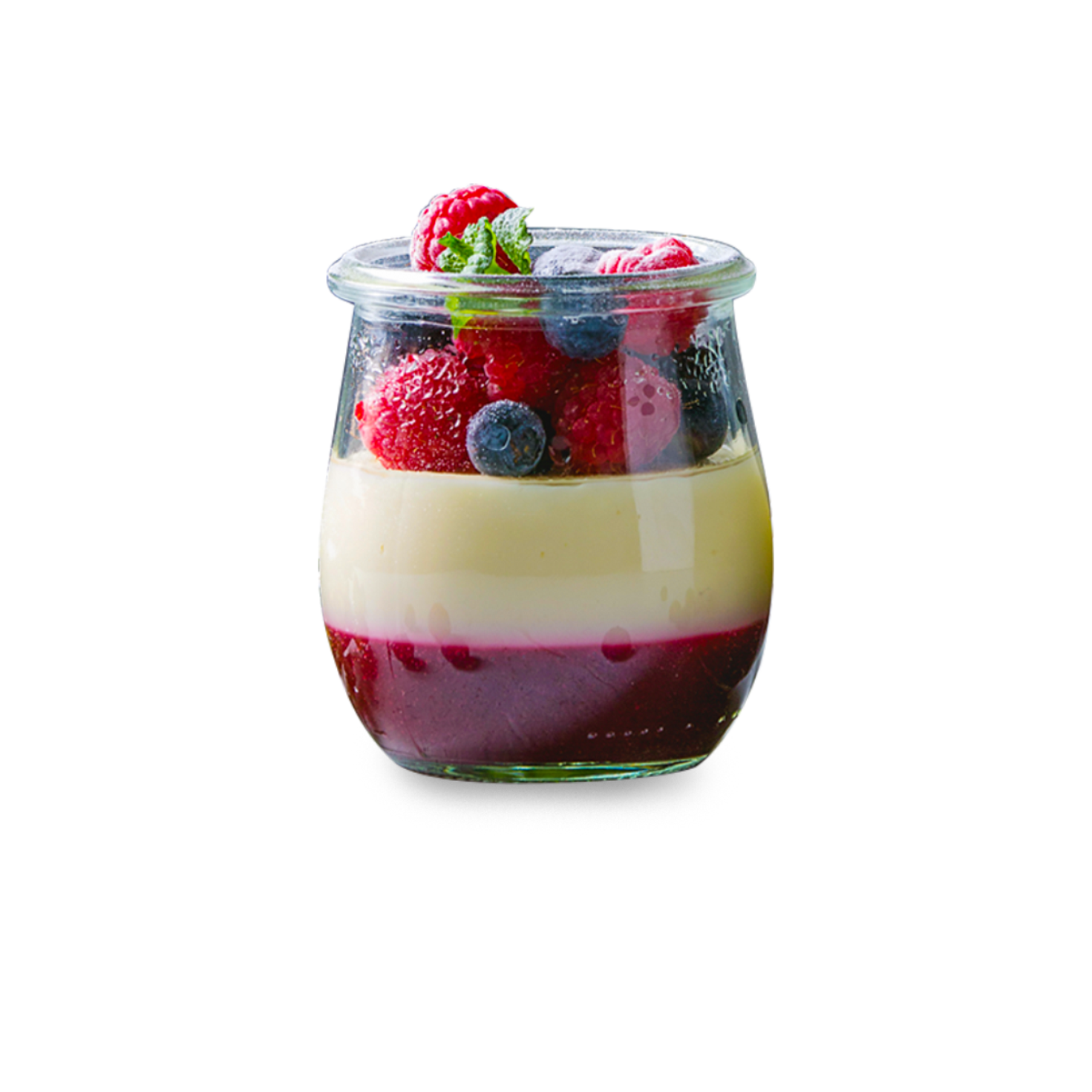 panna cotta mix: sugars (sugar, dextrose) • corn starch • carrageenan • salt • artificial flavours (contains lactose).
Berries sauce: sugars (sugar, glucose-fructose syrup), berries (blueberries, blackberries, strawberries, raspberries), modified corn starch, locust bean gum, citric acid, natural
Flavours.
Contains: milk. May contain: soy.

Pour the preparation in a pan. Add slowly 500 ml of fresh cream (or
400 ml of cream and 100 ml of milk). Boil, slowly mix for 2 minutes
stirring continuously. Pour the cream in the mould and let the
mixture cool in the refrigerator for 2 hours. Before serving, take
out of the mould and plate the dessert, garnishing with berry
sauce. Store in the fridge.

| | Nutrition Facts | Per 1/5 package (21 g) | %Daily Value* | Read more |
| --- | --- | --- | --- | --- |
| | Calories | 80 | | |
| | Fat | 0,2 g | 1% | |
| | Saturated | 0,1 g | 2% | |
| |    Trans | 0 g | | |
| | Carbohydrate | 20 g | | |
| | Fibre | 0g | 0% | |
| | Sugars | 18 g | 18% | |
| | Protein | 0 g | | |
| | Cholesterol | 0 mg | 0% | |
| | Sodium | 30 mg | 1% | |
| | Potassium | 30 mg | 1% | |
| | Calcium | 50 mg | 4% | |
| | Iron | 0,1 mg | 1% | |
---
*5% or less is a little, 15% or more is a lot. Panna Cotta: The Most Famous Dessert From Piedmont
Among the delicious desserts of the Piedmontese tradition, panna cotta stands out above all. A delicate, very simple pudding, made with cream, milk, sugar and gelatin.
Panna cotta is said to be born at the beginning of the twentieth century in the city of Cuneo, and made by the Songia family. One of them, Ettore, became a starred chef at the restaurant "I tre citroni", and it was here that in the sixties he gave fame to the recipe, handed down in the family, and from which it spread around Italy and all over the world.
In Italy it is served with a wild berries, caramel or chocolate sauce.
In the European pastry traditions there are recipes similar to the Italian panna cotta: the difference lies in the replacement of gelatin with egg white.
The panna cotta recipe is recognized as a regional recipe by the Piedmont Region.

Average rating:
0 reviews