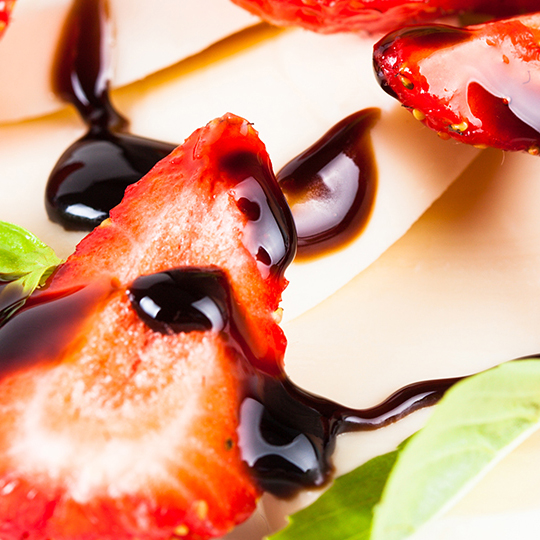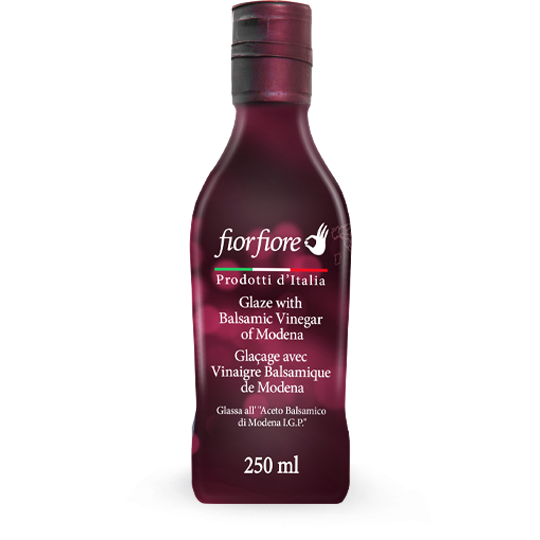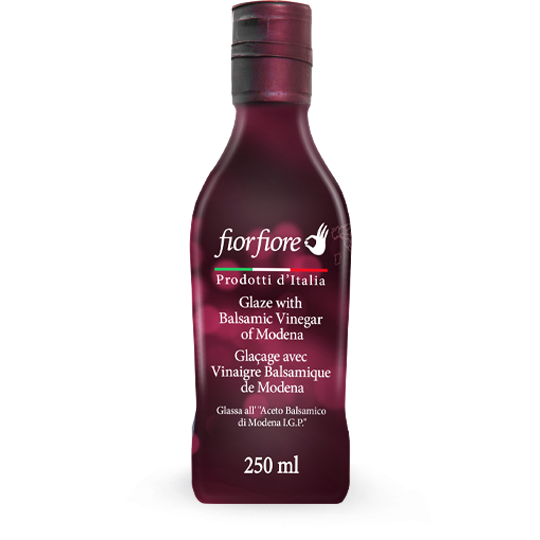 Glaze with Balsamic Vinegar Of Modena
The cream with Balsamic Vinegar of Modena PGI is a ready-to-use reduction of Balsamic Vinegar. A velvety and full bodied cream, without any caramel coloring, with a shiny brown tint and the exclusive sweet-sour taste of the authentic Balsamic Vinegar of Modena. It is used in the kitchen as a sauce to accompany French fries, as a condiment for grilled or boiled meats, or for mature cheeses, stuffed pasta or risotto alla Parmigiana. It is also perfect on vanilla ice cream, yoghurt or strawberries, or on "Vecchia Modena" white pizza, with its bacon and Parmigiano Reggiano.
A REFINED ADDITION... FROM THE APPETIZER TO THE DESSERT
THE QUALITY OF TRADITION. Balsamic vinegar cream was traditionally obtained by cooking and thickening the balsamic vinegar with sugar and flour to obtain a thick and velvety cream. Fior Fiore cream is created by cold mixing balsamic vinegar and cooked grape must with corn starch and sugar. No dyes are used: the intense brown color is guaranteed by a good quantity of high quality cooked grape must.
HOW BALSAMIC VINEGAR OF MODENA IS BORN. Grape must and wine vinegar come together and mature together in small barrels for the time necessary for the wood to give off uniquely balsamic aromas and flavors, making it harmonious and complex. The barrels are never completely emptied, but a base, called "mother", is always left, on which the younger vinegar is grafted for maturation. The base reaches over 100 years of age.
THE GRAPES AND THE MUST. In true balsamic vinegar of Modena, the grapes, rigorously Italian and of high quality, must derive from 7 authorized vines: Lambrusco, Albana, Trebbiano, Sangiovese, Montuni, Ancellotta and Fortana. In the blend, the must, or grape pulp, determines the degree of sweetness, the intensity of the color and the density of the product. The higher the concentration of the must, the higher the density, the sweeter and fuller the vinegar.
THE TERRITORY AND THE TYPE OF WOOD. The maturation of the authentic balsamic vinegar of Modena is required by law to take place in the protected geographical indication area (PGI) within the provinces of Modena and Reggio Emilia. Highly prized wood is rigorously selected for the barrels: oak, chestnut, juniper or mulberry.
A STORY WITH VERY ANCIENT ORIGINS. The Romans used cooked grape must (sapum) as medicine, sweetener, and seasoning. The birth of balsamic vinegar was probably accidental, but it soon became a noble product.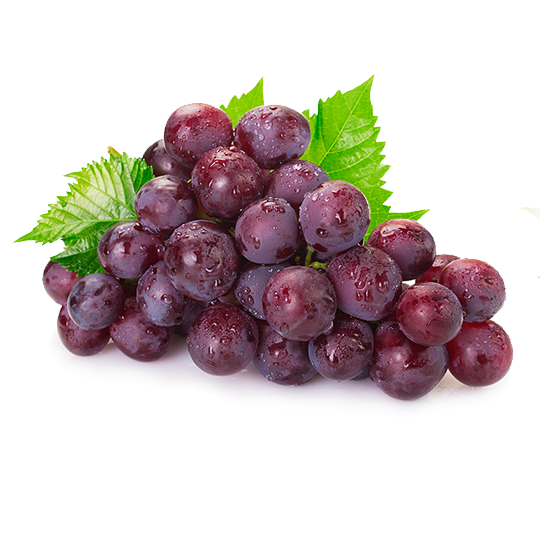 Cooked grape must, balsamic vinegar of Modena (39%) (cooked grape must, wine vinegar), sugar,
modified corn starch, sulphites.
Ready to use. Store in a cool, dry place
| | Nutrition Facts | Per 1 tbsp (15ml) | %Daily Value* | Read more |
| --- | --- | --- | --- | --- |
| | Calories | 44 | | |
| | Fat | 0g | 0% | |
| | Saturated | 0g | 0% | |
| | Trans | 0g | | |
| | Carbohydrate | 10g | | |
| | Fibre | 0g | 0% | |
| | Sugars | 9g | 9% | |
| | Protein | 0g | | |
| | Cholesterol | 0mg | 0% | |
| | Sodium | 5mg | 0% | |
| | Potassium | 19mg | 0% | |
| | Calcium | 3mg | 0% | |
| | Iron | 0mg | 0% | |
---
*5% or less is a little, 15% or more is a lot. The black gold of Modena
Because its existence is closely linked to the knowledge, traditions and skills of the local population, Balsamic Vinegar of Modena PGI is considered, for its uniqueness, a symbol of the culture and history of Modena.

The plains of Emilia Romagna, along the course of the Po river, has many vineyards with grapes characterized by the right concentration of sugars and acidity. These, together with the ancient knowledge of the farmers and the climatic characteristics of the area, have allowed the Modenese to create a typical and exclusive product. Balsamic Vinegar of Modena is obtained from partially fermented and/or cooked grape must. The grapes come exclusively from the vines of Lambrusco, Sangiovese, Trebbiano, Albana, Ancellotta, Fortana and Montuni.

Wine vinegar is added, in the minimum amount of 10%, plus a sample of vinegar that is at least ten years old, but which is often more than one hundred years in age. The refinement phase takes place inside barrels or vats of fine woods for a minimum period of 60 days. At the end of this period, the product is analyzed and tested by certified technicians and tasters: only by passing this step can it be labeled as Balsamic Vinegar of Modena.

At this point, the Balsamic Vinegar of Modena can undergo a further aging period. If this phase lasts for more than three years, the finished product can boast the classification known as aged
Average rating:
0 reviews