VINEGAR: NOT JUST FOR COOKING
A THOUSAND WAYS VINEGAR CAN BE USED TO CLEAN THE HOME
It can be used on floors, furniture, glass, sinks, pots, laundry, copper and brass, as well as for removing calcium deposits. Did you know that wine vinegar can be used for many things other than cooking? Learn how to use wine vinegar to clean your home.
BEAUTIFUL FLOWERS
If you want to make your flowers even more beautiful and long lasting, wipe the outside of their terracotta pots with lukewarm water and vinegar, before rinsing them. This unblocks the terracotta's pores so the plant's roots can breathe better. To extend the life of cut flowers, dissolve two tablespoons of sugar in two tablespoons of vinegar, and pour this mixture into the water of the vase.
AIR FRESHENER
Rooms filled with stale air can be freshened with one or two containers filled with vinegar. This remedy can also be used to remove bothersome odours in a freshly painted room.
LAUNDRY
Laundry can be treated by adding a few tablespoons of vinegar into the dispenser at the same time as standard laundry detergent. It removes grease from dirty clothes, while cleaning them and making them softer. For coloured fabrics, add a few tablespoons of vinegar during the rinse cycle to prevent fading. If you have a raincoat covered in mud, let it fully air dry and scrape off the dried mud. Rub any stains with a mixture of water and vinegar. Repeat this operation with a solution that contains an ever-increasing amount of vinegar until the stain disappears. Once a stain is removed, dab the spot repeatedly with fresh water and let dry before storing. Treat stained fabrics by dabbing them with white vinegar until they disappear. If you have underarm stains on a blouse, soak it in water and vinegar before washing it. Remove lime on work clothes by rubbing them with vinegar. Wool can become matted, so wash it with water and vinegar. If you soak wool blankets in water and vinegar after washing them, they will become very soft and fluffy.
FLOORS
Remove all traces of plaster and dust on floors of freshly painted rooms by washing them with water and vinegar, followed by a fresh water rinse.
WOODEN FURNITURE
Unpainted wooden furniture can be polished with a soft, dry rag soaked in a mixture of equal parts oil and vinegar, following the wood's grain. If the furniture has been waxed, you can gently remove the wax by covering it with paper towels and heating with a warm iron. Once all the wax has been removed, polish it with a rag soaked in vinegar. Let dry. Restore the lustre of lacquered wood by polishing it with a rag soaked in warm water and vinegar, following the wood's grain. Finish by immediately wiping with a soft, dry rag.
COPPER AND BRASS
Copper and brass are cleaned by rubbing them with coarse salt moistened with hot vinegar, followed by rinsing with fresh water and drying with a soft cloth.
WINDOW PANES, OUTDOOR GLASS, CRYSTAL CHANDELIERS AND MORE
Window panes, outdoor glass, crystal chandeliers, knick-knacks and much more can be washed with equal parts warm water and vinegar. Traces of vinegar left on the glass or crystal will also act as an insect repellent, helping them stay cleaner much longer.
STEAM IRONS
Calcium deposits feel right at home in a steam iron. To dislodge them, fill the iron with equal parts water and vinegar. Heat the iron, let out some steam, unplug it and leave it upright until completely cold. Then empty it and rinse it out with demineralized water. To clean the soleplate, rub it with hot vinegar and fine salt.
WASHING MACHINES
Calcium deposits tend to form in washing machine hoses. Dissolve them by pouring 4 litres of vinegar diluted with water into the machine. Run a 90° wash cycle with an empty machine. Water and vinegar can also be used for washing the inside and outside of a washing machine. Afterwards, wipe with a sponge soaked in water only.
SINK STAINS
Stains on sinks, taps, and the like are removed by wiping them with a sponge soaked in hot vinegar, then thoroughly rinsing and drying them. If aerators on sink taps and showerheads are obstructed by calcium deposits, unscrew and immerse them in vinegar until the calcium deposits begin to dissolve. Glass shower stalls can be cleaned by wiping them with an abrasive sponge soaked in white vinegar. Rinse and dry thoroughly. Remove traces of mould on shower curtains by washing them in water and vinegar, then hanging them to dry without rinsing.
GLASS AND CRYSTAL
There's nothing better for glass and crystal than vinegar. Glasses and bottles become smooth and shiny by washing and rinsing them with a mixture of 2–3 tablespoons vinegar per litre of water. You don't even need to dry them. Just flip them over and let them air dry.
POTS AND TABLEWARE
How do you remove burned-on food from the bottom of a pot? Vinegar is an amazing remedy! Just pour some into the pot and let it sit for thirty minutes. To get it done faster, boil the vinegar, alone or with a little water, until the burned-on food has been completely dislodged. Vinegar is also great for removing grease. Adding a few teaspoons of vinegar to the dishwasher's water helps save on detergent and leaves all dishes smelling sparkling fresh.
Discover all the ways to clean with vinegar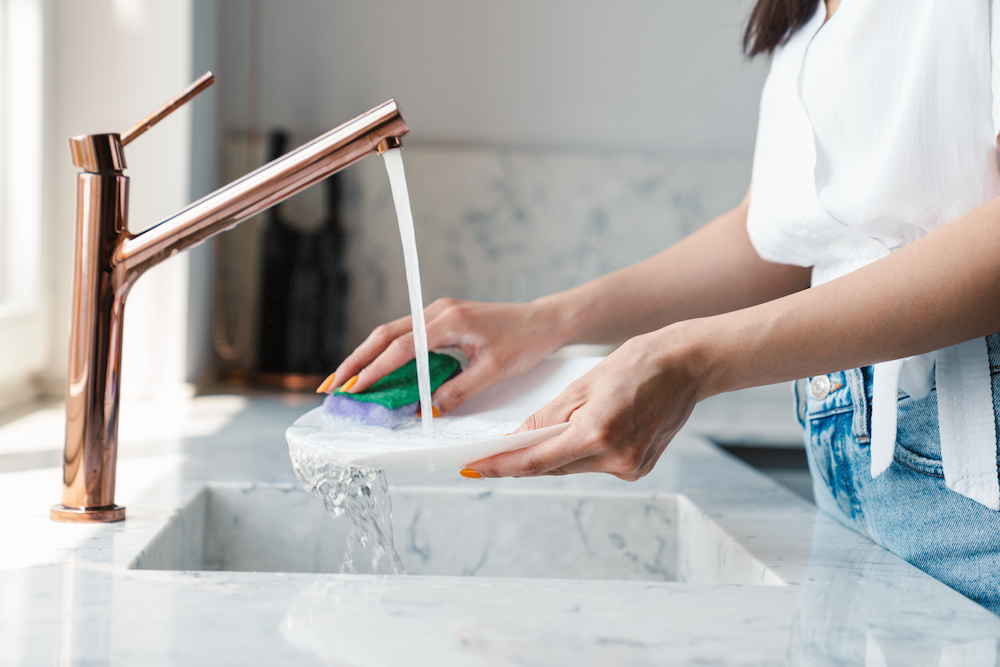 ELIMINATE CALCIUM DEPOSITS
Would you like to remove calcium deposits from kettles and other vessels used to boil water? Start by filling them with 2/3 vinegar, 1/3 water and a handful of salt. Bring to a boil. After a few minutes, unplug the kettle or remove it from heat. Let stand for 12 hours. Rinse well before using again. The same method works for teapots or aluminium pots with calcium deposits. A sponge soaked in hot vinegar will easily remove calcium deposits on stainless steel. Do you have a thermos that hasn't been used for some time? There's nothing better than washing it with hot water and vinegar, then rinsing with cold water.
COFFEE MAKERS AND MUGS
Remove grime from a coffee maker by rubbing it with vinegar and fine salt. Rinse thoroughly and air dry. Rub a mixture of salt moistened with vinegar on cups and mugs stained with tea or coffee. Rinse with fresh water.
CALCIUM DEPOSIT REMOVER
Calcium deposits or water spots on a stainless steel sink can be removed by wiping with a sponge soaked in vinegar. If the sink is clogged, pour boiling vinegar into the drain. Wait at least one hour and rinse.
THE DISHWASHER
Every once in a while, you should run an empty dishwasher cycle, especially if you haven't used it in a long time. Make sure to add a litre of vinegar into the machine.
THE REFRIGERATOR
If your refrigerator has a bad odour. Empty it and clean it. Afterwards, place a bowl filled with hot vinegar on the shelf. Let it cool, remove and repeat, if necessary. When you need to clean your refrigerator, avoid fragrant detergents. Instead, use a sponge soaked in water and vinegar, then wipe with fresh water and dry.
THE OVEN
Grease needs to be removed from an oven. Wipe the walls with a sponge soaked in vinegar. Repeat, if necessary, until all grease has been removed.
ODOUR REMOVER
Bad kitchen odours arrive like clockwork when frying foods or cooking cauliflower. You can remove them by boiling a small pot with water and vinegar on a separate burner. You could also spray a few drops on the hot stovetop every now and then. As a final suggestion, you could place a few tablespoons of vinegar in the cooking water. If boiling cabbage, add a piece of bread dipped in vinegar to the pot.
FISH ODOUR ON HANDS
If your hands smell of fish, onions or anything else when preparing food, vinegar can be a lifesaver. Simply moisten them with vinegar, before rinsing with a mixture of water and vinegar.