THE MOST FAMOUS TYPES OF PASTA IN ITALY-PART 2
There are many types of pasta in Italy. But which are the most famous? What is their history and what is the perfect sauce for each? Read on and find out why they were chosen by FiorFiore. We hope you enjoy it and buon appetito!
LINGUINE
They resemble flat spaghetti. In other words, while spaghetti is round, these are flat and rectangular.
Ideal with pesto, they are descended from an older type of pasta, bavette, which was the favourite holiday dish of Genovese families in that era. 
TRIVIA
They belong to the same category as bavette and trenette — in Genovese dialect "trena" means "laces".
THE PERFECT ACCOMPANIMENT
Either fish or pesto.
MACARONI
Although the origins of macaroni are uncertain, they are now considered a typical Neapolitan dish that is enjoyed throughout the Italian Peninsula. Along with spaghetti and pizza, they symbolise Italy throughout the world. 
TRIVIA
They represent the simplicity and traditions of Italian working-class home cooking — so much so that they have become the emblem of neorealism, a cinema movement that focused on representing the everyday life of the working class.
THE PERFECT ACCOMPANIMENT
Macaroni can be cooked in almost any manner. The most traditional recipe is oven-baked macaroni.
LUMACONI PASTA SHELLS
This type of pasta originated in Italy's Campania region. They got their name because their shape resembles the shell of a large snail — "lumaca" means snail in Italian. Lumaconi provides a strong flavour with lighter, less full-bodied sauces. Why? Because the sauce slides inside the pasta and explodes in the mouth with each bite.
TRIVIA
They can be stuffed and eaten as a small, tasty finger food.
THE PERFECT ACCOMPANIMENT
Meat sauce with pork and beef, or sausage.
DISCOVER THE PERFECT COMBINATION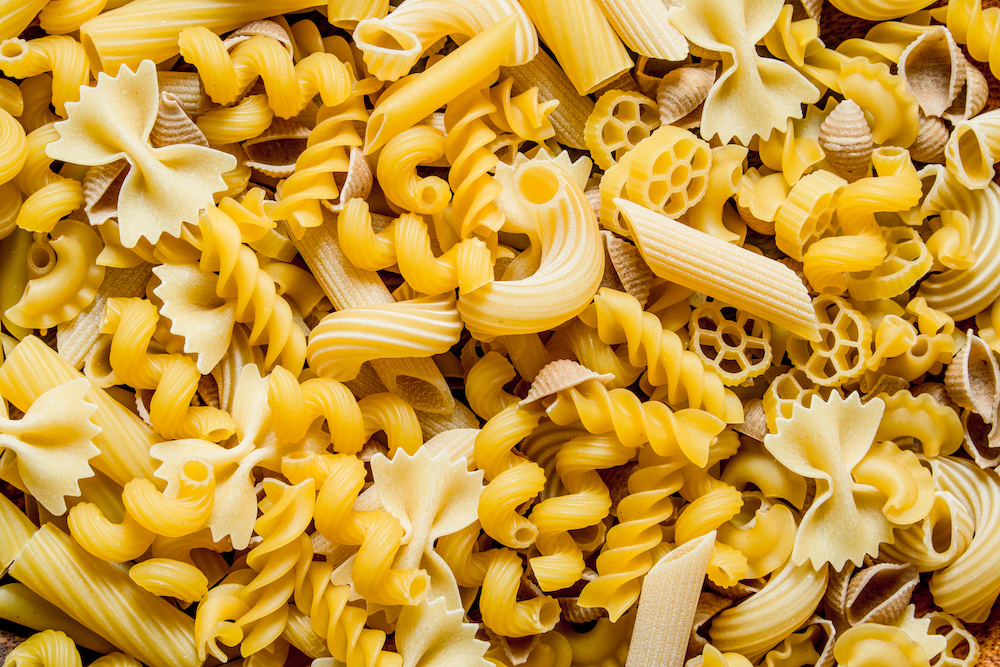 CURLY LASAGNA
This pasta got its name because of its curled edges on both sides. They are originally from southern Italy, with many believing they were born in the region of Campania. They are special because, once cooked, you notice the different consistencies between the smooth and curly parts, which helps the sauce cling to the pasta.
TRIVIA
Lasagna is one of the oldest types of pasta. Its name derives from the Greek word, "laganon," meaning a large, flat sheet of pasta cut into strips. During the 12th century, famous Italian poets sang its virtues. 
THE PERFECT ACCOMPANIMENT
With Neapolitan meat-and-ricotta sauce, as well as other meat or game sauces.
ROTINI CORKSCREW PASTA
Originally from southern Italy, its name means "small wheels" in Italian. Sauce clings to the grooves in its twisted shape.
TRIVIA
This type of pasta is loved by children, who find it especially fun to eat. 
THE PERFECT ACCOMPANIMENT
With tomatoes and parmesan cheese or in cold pasta salads.