THE MOST FAMOUS TYPES OF PASTA IN ITALY-PART 1
There are many types of pasta in Italy. But which are the most famous? What is their history and what is the perfect sauce for each? Read on and find out why they were chosen by FiorFiore. We hope you enjoy it and buon appetito!
CASERECCE
Casarecce are originally from Sicily. They got their name because they are rooted in home-style peasant cooking. "Casa" is the Italian word for house and the root of this pasta's name. They are a smooth, unridged pasta that rolls into itself and is curved at the edges, so that the sauce perfectly clings to it.
TRIVIA 
The ancestor of casarecce is the older busiata pasta, which originated in the Arab world; its dough is rolled several times into itself around the stem of a very thin plant named "bus." 
THE PERFECT COMBINATION
You can't beat eating them with sautéed vegetables, in line with their Mediterranean origins.
FARFALLE
A children's favourite: soft on the outside, crunchy in the centre and with a fun, butterfly shape. They originated in the regions of Lombardy and Emilia-Romagna in the sixteenth century.
TRIVIA 
In the region of Emilia, farfalle — the Italian word for butterflies — are called strichetti because they were originally produced using scraps left over when preparing capelletti, a type of stuffed pasta. Housewives prepared more dough and the leftovers were cut into squares and pinched in the centre, creating a butterfly-shaped pasta. In dialect, stichèr means "to pinch," and that is where strichetti got their name.
THE PERFECT COMBINATION
Farfalle are perfect with delicate flavours. They are unbeatable with Fiorfiore tomato and ricotta sauce.
SARDINIAN GNOCCHI
Made in the shape of small shells, they are ridged so that sauces will cling to them. Originally from Sardinia, they are called malloreddus in local dialect, which comes from the Sardinian word "malloru", which means "bull." The plural, malloreddus, means calves because they resemble the shape of young potbellied calves.  
TRIVIA 
Malloreddus have always been a dish for special occasions. Sardinian housewives prepared them for weddings, parties and country festivals.
THE PERFECT COMBINATION
In Sardinia, they are served with a sauce made from Sardinian sausage, onions, tomatoes, saffron and pecorino cheese.
DISCOVER THE PERFECT COMBINATION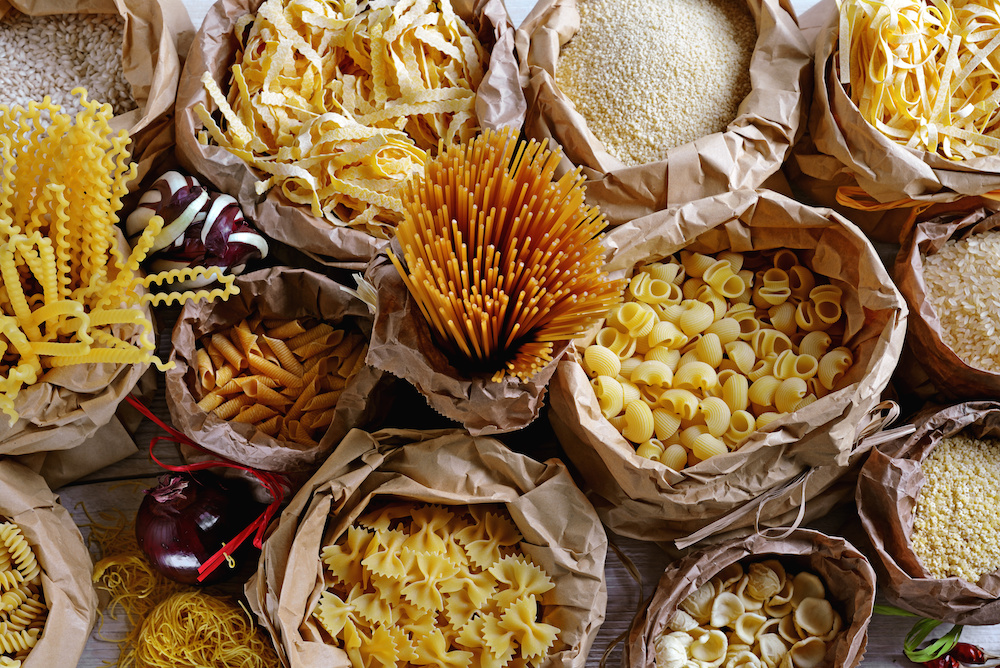 PENNE
Penne originated in 1865 in San Martina d 'Albaro, in the province of Genoa. Giovanni Battista Capurro, a producer of fresh pasta, invented and patented a machine that could cut this tube-shaped pasta without crushing it. 
TRIVIA 
They were so named because the Genoese of the time thought they resembled the nibs of fountain pens — penne is the Italian word for "pens."  
THE PERFECT COMBINATION
Penne have always been synonymous with sugo all'arrabiata, a spicy sauce made from garlic, tomatoes, and chili pepper.
RIGATONI
Their origins are uncertain. There are those who claim they originated near Rome, while others say Abruzzo or Calabria. But they definitely came from Central or Southern Italy. Depending on the Italian region or area, rigatoni are called different names: Bombardoni, Cannaroni rigati, Cannerozzi rigati, Maniche, Rigatoni romani, Rigatoncini, Trivelli, Tufoloni rigati, Scaffittuni. However, the shape remains the same: large, tubular and ridged.
TRIVIA 
They were named after their ridges. This invention may seem small, but it was brilliant, to say the least: being produced with small ridges allows the sauce to get deep inside the pasta, enhancing its flavour.
THE PERFECT COMBINATION
The most famous rigatoni recipe in Italy is caccio e pepe — pecorino cheese and black pepper. 
SPAGHETTI
It is the most classic type of pasta, an icon of Italian cuisine. This type of pasta appeared for the first time in a document dated 1154 AD, written by Al-Idrisi, a geographer in the court of Roger II of Sicily. It talks about Trabia, a town a few kilometers away from Palermo that is full of mills making a rounded, wire-shaped pasta — the precursor to spaghetti.
TRIVIA 
The export of spaghetti is very old: ships departed from Sicily to coasts throughout the Mediterranean in both Muslim and Christian realms, including the Saharan hinterland and Berber markets.
THE PERFECT COMBINATION
What else but carbonara?