ITALIAN FLAVOURED OILS: AN AGE-OLD TRADITION
HOW ARE FIORFIORE FLAVOURED OILS MADE?
Our producer will tell you about it: a true story, about 300 years old. Watch the video!
ONLY FINE QUALITY INGREDIENTS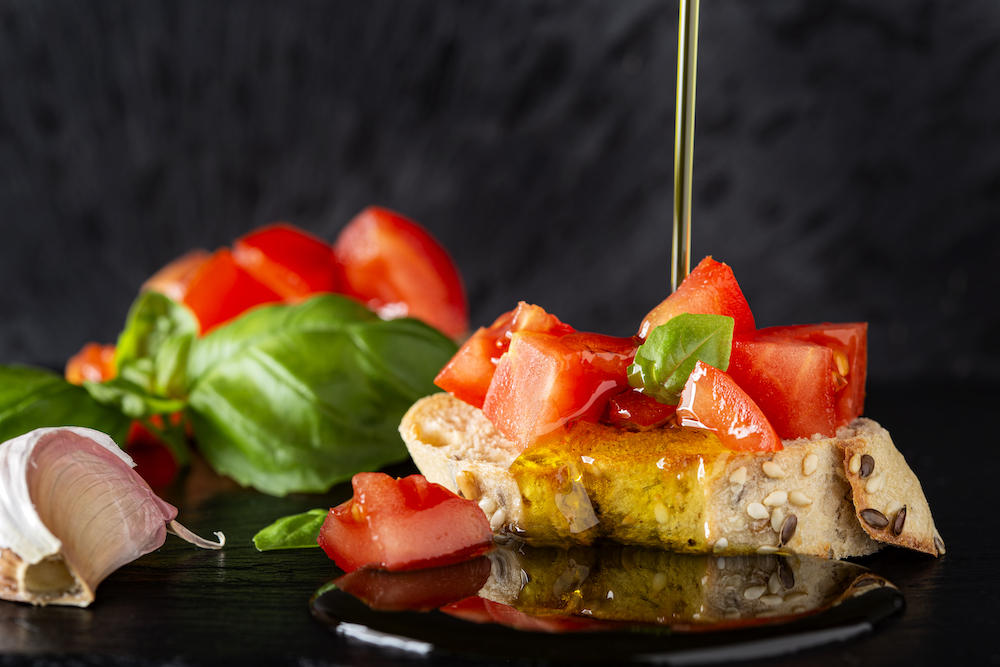 INFUSION MADE AS IT ONCE WAS. Extra virgin olive oil is a staple in Italian cuisine, and since ancient times it has been infused with spices. Only through a rigorous process of selection of raw materials, as tradition dictates, are the flavors, aromas and all the organoleptic properties of both the extra virgin olive oil and the infusion ingredients it enhances.
PICKED AND PRESSED: ONLY PURE EXTRA VIRGIN OLIVE OIL. The manufacturing process is traditional and subject to high analytical standards. The extra virgin olive oil is obtained by mechanical pressing of the olives, harvested at the right moment of ripeness, through a continuous cycle extraction plant (press), at low temperatures (27 degrees celsius) to preserve all the aromas.
THE SECRET OF THE DECANTING PROCESS. Each ingredient is infused in extra virgin olive oil in special steel tanks for about 10 days, to let the oil extract and acquire all the aromas. During this time expert tasters carry out repeated tests to establish the correct level of fragrance and flavor.
ONLY FINE QUALITY INGREDIENTS.
The selection of ingredients 100% Italian is very rigorous:
THE PROPERTIES OF ROSEMARY. Rosemary is an evergreen plant, very common throughout the Mediterranean, widely used in Italian cuisine thanks to its intense aroma which gives the dishes a pronounced flavor. Since ancient Greek times it was used to embellish foods and as a medicinal plant is rich in beneficial essential oils. It was also used as a crown, to decorate the heads of heroes.
THE PROPERTIES OF THE CHILI PEPPER. Chili peppers are a fascinating food. Their bright red color make them pleasant to look at, and they have intrinsic characteristics and a lively spiciness. They have an ancient history that takes us back to the time of pre-Columbian civilizations: Maya, Inca and Aztecs appreciated them for the ease with which they could be cultivated and for the effects believed to be magical and aphrodisiacal. In fact, it was present in every moment of daily life, both as food and medicinal source. Today it abounds in Italian and Mediterranean cuisine.
THE PROPERTIES OF GARLIC. Known by ancient civilizations such as the Egyptians and the Sumerians, garlic is still so widespread today that it grows spontaneously in many places, from Siberia to Calabria, from Sicily to Africa. Garlic is therefore a global plant. In ancient times it was used as a drug and in rituals. In southern Italy it was used as an amulet to drive away evil spirits. Today its use extends in every kitchen of the country.
THE PROPERTIES OF BLACK TRUFFLE. Only tubers of fine quality that have reached the right degree of ripeness and express pleasant and intense notes.
NERO DI NORCIA AND BIANCO DI ALBA. Today the truffle is considered a precious fine food that enhances every dish. The most sought after in Italy are the black ones from the city of Norcia, in Umbria, and the white ones from the cities of Alba, in Piedmont, and of San Giovanni d'Asso in Tuscany.
EXTRA VIRGIN OLIVE OIL AND BALSAMIC VINEGAR: A PERFECT BALANCE. At this stage, our experts taste the samples multiple times and establish the blend recipe for extra virgin olive oil and Balsamic vinegar of Modena PGI to make this delicious condiment.