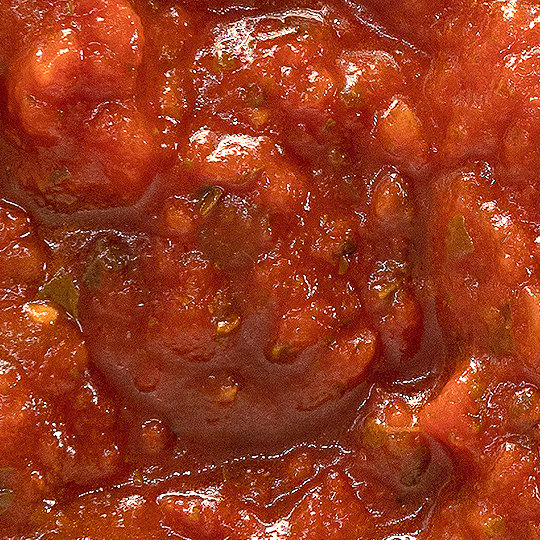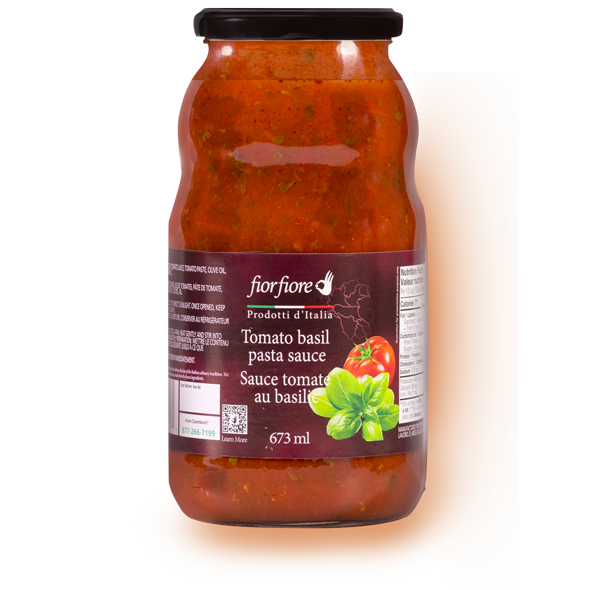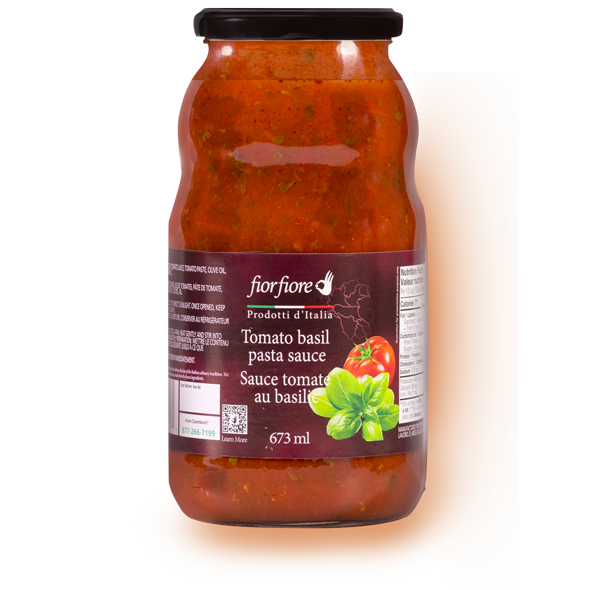 Tomato basil pasta sauce 673 ml
Tomato and basil sauce is the most common condiment when it comes to "pasta", always present in Italian everyday cuisine. Simple and tasteful as is. For a personal touch, add some capers, a few basil leaves, a generous sprinkling of Pecorino cheese, and that's it!
Tomato sauce: the star in Italian everyday cooking
Tomato sauce is an inevitable ingredient in traditional Italian cuisine. Prepared by slowly cooking the pulp of tomatoes in olive oil, it is the basis for meat ragout and full-bodied sauces, but also for fish dishes, soups and pizza, the queen. Tomato sauce is the main character in Italian cookbooks, together with olives, basil, ricotta, peppers, chili peppers and much more, when it comes to complementing a pasta dish.
CONSERVATION TECHNIQUES: Brought to the Old World after the discovery of America, the tomato was not seen on tables until 1690, when it was found as "Pomadoro Salsa alla Spagnuola", in the cookbook of the Spanish Viceroy's court cook in Naples. At the time the tomato was used only fresh, squeezed or boiled to make some sauce to be used within a few days. In 1762, thanks to Lazzaro Spallanzani, conservation techniques were defined to preserve the cooked tomatoes in closed containers. This allowed their use all year round.
FROM THE KINGDOM OF THE TWO SICILIES TO PARMA: We must wait until 1839 to find the tomato sauce paired for the first time with pasta as a condiment. With the unification of Italy, the northern regions of the country came to know about this succulent fruit, which had, by now, long been successfully grown in the former Kingdom of the Two Sicilies (today corresponding to the Regions of Campania, southern Lazio, Abruzzo, Puglia, Basilicata, Calabria and Sicily) and its wide use in the kitchen. Thus, in the city of Parma, in the region of Emilia Romagna, farmers started preserving tomatoes by drying them in the sun before turning them into sauce.
THE EVOLUTION CONTINUES...: The preserving techniques are refined and extend to the present day enriching with the tasty variations proposed by Fiorfiore: tomato and basil, tomato and olives, tomato and ricotta and arrabbiata sauces.
Diced tomato in tomato juice, tomato paste, olive oil, basil, salt, onion, sugar, garlic.
Empty contents into a pan. Heat gently and stir into cooked pasta and serve immediately. Store in a cool, dry place out of direct sunlight. once opened cover with oil, keep refrigerated and use within 5 days.
| | Nutrition Facts | Per 1/2 cup (125mL) | %Daily Value* | Read more |
| --- | --- | --- | --- | --- |
| | Calories | 71 | | |
| | Fat | 3 g | 4% | |
| |    Saturated | 1 g | 3% | |
| |    Trans | 0 g | | |
| | Carbohydrate | 9 g | | |
| |    Fibre | 2 g | 6% | |
| |    Sugars | 6 g | 6% | |
| | Protein | 2 g | | |
| | Cholesterol | 0 mg | | |
| | Sodium | 476 mg | 21% | |
| | Potassium | 448 mg | 10% | |
| | Calcium | 26 mg | 2% | |
| | Iron | 1 mg | 3% | |
---
*5% or less is a little, 15% or more is a lot .
Tomatoes:
the king of Italian vegetables
Tomatoes first appeared in northern Italy in 1596, but only as an ornamental plant. It was the father of Italian botany, Pietro Andrea Mattioli, who is attributed to naming the fruit "pomo d'oro" (or golden apple).

The favorable climate of the south led to the production of tomatoes that were larger and bright orange-red in color. However, it wasn't until the 18th and 19th centuries, especially after Italy was unified, that tomatoes cinched their spot in popular Italian cuisine.

Average rating:
0 reviews