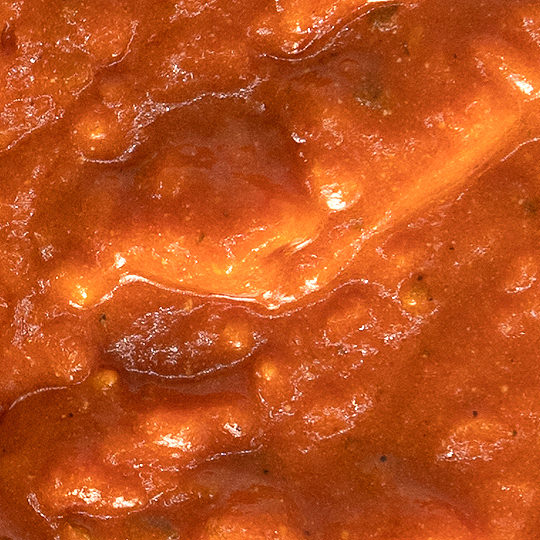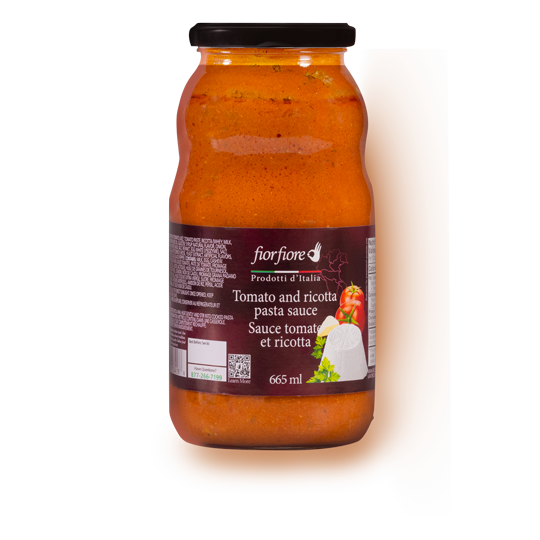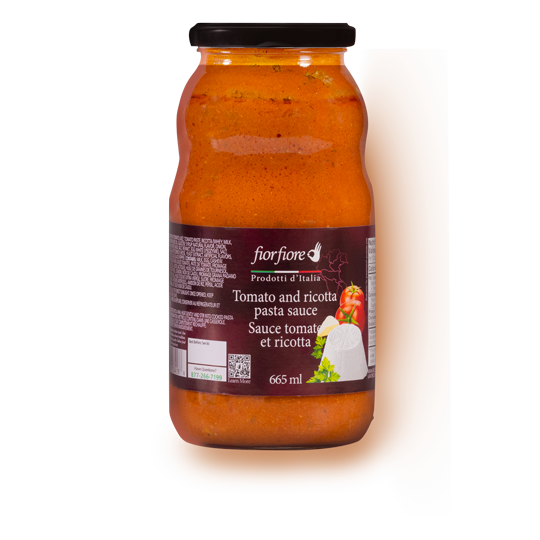 Tomato and ricotta pasta sauce 665 ml
A great pasta sauce for a quick and easy lunch. A traditional recipe that combines the fresh taste of tomato to the full-bodied taste of ricotta. Excellent with Rigatoni, just pour it on your cooked and drained pasta. Decorate with a few fresh basil leaves.
Tomato sauce: the star in Italian everyday cooking
Tomato sauce is an inevitable ingredient in traditional Italian cuisine. Prepared by slowly cooking the pulp of tomatoes in olive oil, it is the basis for meat ragout and full-bodied sauces, but also for fish dishes, soups and pizza, the queen. Tomato sauce is the main character in Italian cookbooks, together with olives, basil, ricotta, peppers, chili peppers and much more, when it comes to complementing a pasta dish.
CONSERVATION TECHNIQUES: Brought to the Old World after the discovery of America, the tomato was not seen on tables until 1690, when it was found as "Pomadoro Salsa alla Spagnuola", in the cookbook of the Spanish Viceroy's court cook in Naples. At the time the tomato was used only fresh, squeezed or boiled to make some sauce to be used within a few days. In 1762, thanks to Lazzaro Spallanzani, conservation techniques were defined to preserve the cooked tomatoes in closed containers. This allowed their use all year round.
FROM THE KINGDOM OF THE TWO SICILIES TO PARMA: We must wait until 1839 to find the tomato sauce paired for the first time with pasta as a condiment. With the unification of Italy, the northern regions of the country came to know about this succulent fruit, which had, by now, long been successfully grown in the former Kingdom of the Two Sicilies (today corresponding to the Regions of Campania, southern Lazio, Abruzzo, Puglia, Basilicata, Calabria and Sicily) and its wide use in the kitchen. Thus, in the city of Parma, in the region of Emilia Romagna, farmers started preserving tomatoes by drying them in the sun before turning them into sauce.
THE EVOLUTION CONTINUES...: The preserving techniques are refined and extend to the present day enriching with the tasty variations proposed by Fiorfiore: tomato and basil, tomato and olives, tomato and ricotta and arrabbiata sauces.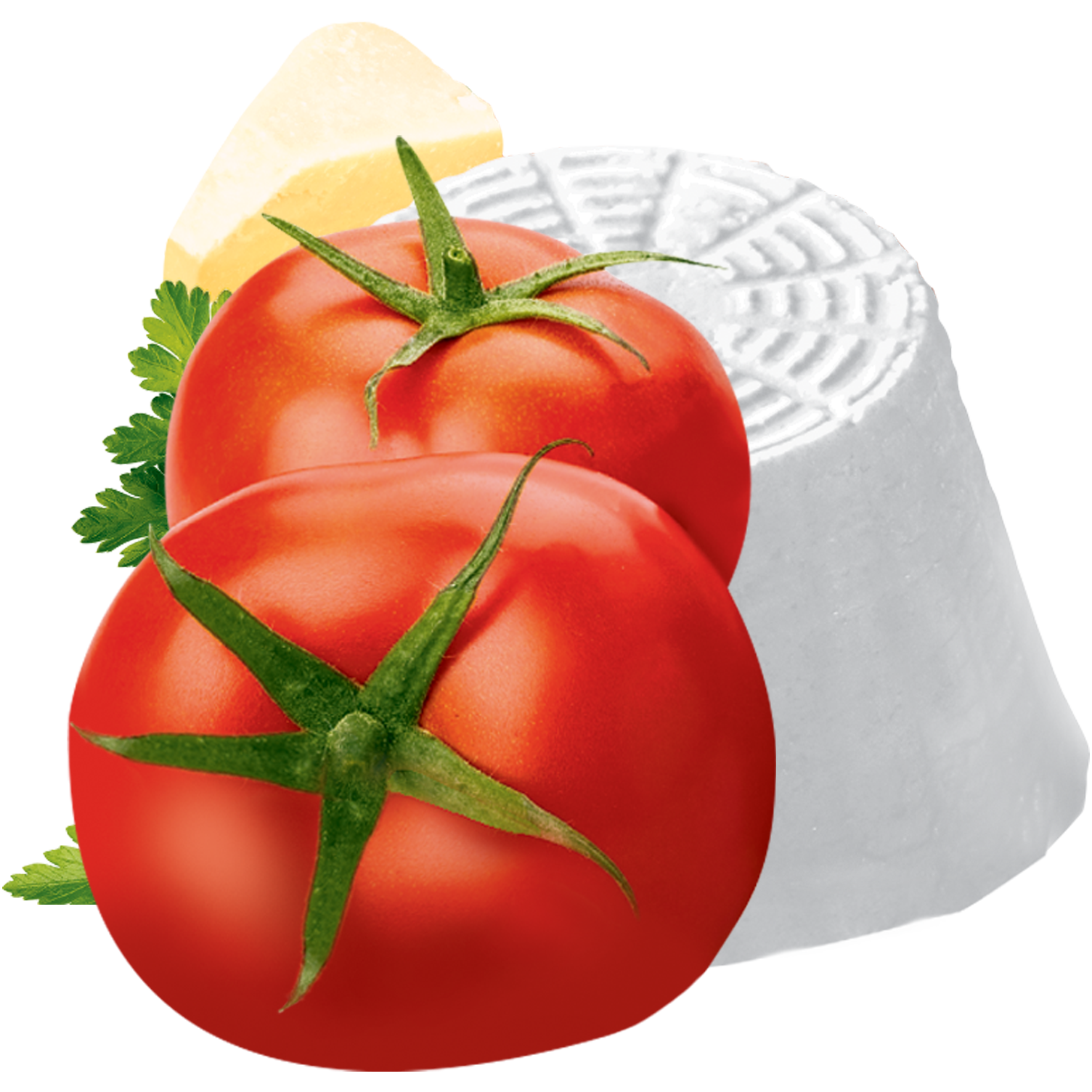 Diced tomato in tomato juice, tomato paste, ricotta (whey, milk, salt, lactic acid), sunflower seed oil, glucose syrup, natural flavor, onion, cashews, grana padano cheese (milk, salt, rennet, egg white lysozyme), salt, extra virgin olive oil, sugar, pecorino cheese, yeast extract, artificial flavors, rice starch, parsley, lactic acid, black pepper. Contains: milk, egg, cashew.
Empty contents into a pan. Heat gently and stir into cooked pasta and serve immediately.
| | Nutrition Facts | Per 1/2 cup (125mL) | %Daily Value* | Read more |
| --- | --- | --- | --- | --- |
| | Calories | 174 | | |
| | Fat | 11 g | 14% | |
| |    Saturated | 3 g | 15% | |
| |    Trans | 0 g | | |
| | Carbohydrate | 14 g | | |
| |    Fibre | 3 g | 10% | |
| |    Sugars | 8 g | 8% | |
| | Protein | 5 g | | |
| | Cholesterol | 11 mg | | |
| | Sodium | 664 mg | 29% | |
| | Potassium | 465 mg | 10% | |
| | Calcium | 95 mg | 7% | |
| | Iron | 1 mg | 3% | |
---
*5% or less is a little, 15% or more is a lot. Ricotta:
All of Italy is crazy about it.
Ricotta is a dairy product with an ancient history, produced in all Italian the regions. Among the best known is the Roman ricotta, produced in Lazio, characterized by a compact and dry texture. Other Italian regions have their own variations on, such as seasoned, baked, smoked or salted.
It only takes three ingredients to make ricotta at home: milk, lemon and salt. It contains high amounts of protein with a high nutritional value and is rich in essential amino acids. The name "ri-cotta" means, in Italian, cooked twice, refers to the two times it is heated during its preparation. Milk from cows, sheep or goats can be used, resulting in different flavors.

A versatile product that lends itself to an infinite number of combinations and recipes, from first courses to desserts. The most famous are typical of Campania and the south, like the sfogliatella, the cannoli, and the Neapolitan Pastiera.


Civita di Bagnoregio, Viterbo, Lazio.
Average rating:
0 reviews