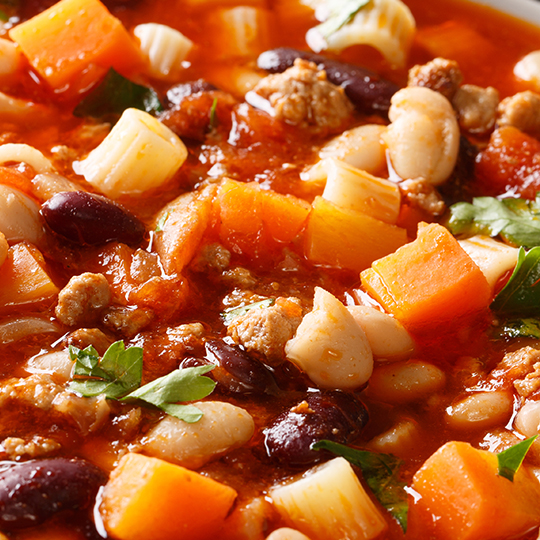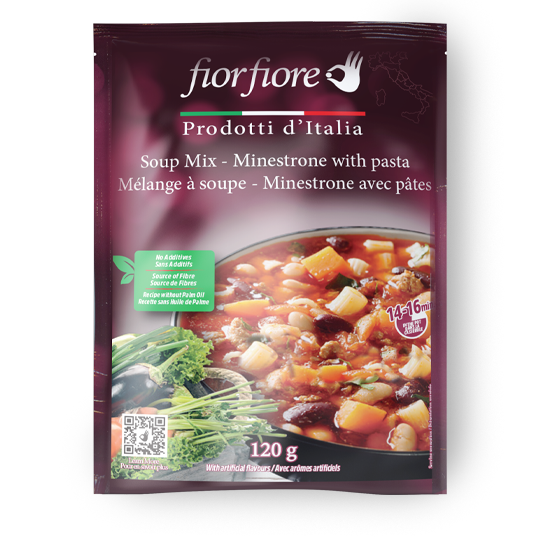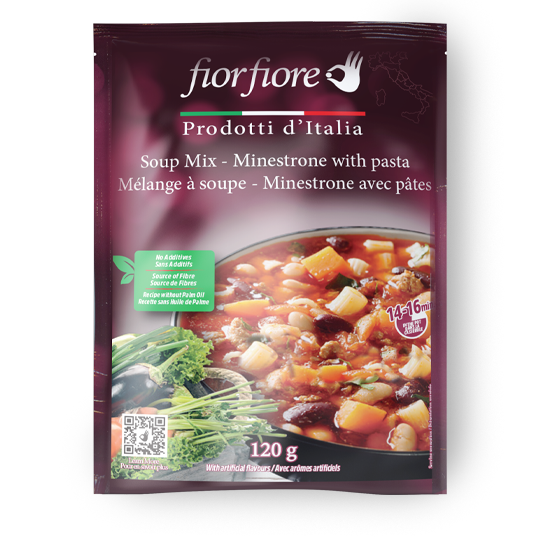 Soup mix – Minestrone with pasta
On a cold winter's day, nothing beats a hot, nutritious and lower calorie dish to kick back and recharge your batteries. A real cure-all! A traditional northern Italian recipe that's very simple, filling, and good for the waistline. During the other seasons of the year, this dish can be enjoyed at room temperature: how's that for practicality! Ready on the stove within minutes, and free of additives or palm oil. High in fibre, it's ideal for vegans.
THE AUTHENTIC FLAVOUR OF TRADITIONAL ITALIAN RECIPES... WHENEVER, WHEREVER!
FOR THOSE WHO LACK TIME AND AREN'T WILLING TO GIVE UP AUTHENTIC ITALIAN TASTE Only carefully selected, high-quality ingredients without additives or preservatives can bring out the essence of traditional recipes, plain and simple. Awide range of ready-to-heat products, created and designed with convenience in mind. Quick to prepare, thanks to innovative preservation techniques, and oh so tasty!
NO ADDITIVES, PRESERVATIVES OR PALM OIL: JUST PREMIUM INGREDIENTS Fiorfiore Ready Meals contain no additives: this line of products is free of monosodium glutamate, flavourings and preservatives. Nothing but real Italian taste.
AS GOOD AS FRESH Additives with different functions are widely used in the food industry: the most common is monosodium glutamate, a flavour enhancer and an essential component of stock cubes. Its purpose is to "spice up" recipes and sometimes make up for a lack of taste. Unfortunately, this additive dulls all flavours with an equal "base". Without monosodium glutamate, flavour can only be obtained via top-quality ingredients and richer recipes, in order for food to taste as good as fresh.
FREEZE-DRYING: ONE OF THE SAFEST PRESERVATION TECHNIQUES Freeze-drying is among the safest and most advanced modern preservation techniques. It uses a rapid drop in temperature to eliminate water from food while keeping flavours and nutritional values intact, with no need for additives or preservatives.
25 YEARS OF FREEZE-DRIED QUALITY AND PASSION FOR ITALIAN GASTRONOMIC CULTURE Fiorfiore producers specialize in the development and production of quality, ready-to-cook foods containing the best freeze-dried ingredients, selected and brought together to reflect Italian culinary culture. Fiorfiore Ready Meals go through a series of thorough and stringent checks to ensure quality, taste and wholesomeness. Special scanners and auditors ensure that packaged goods contain only the healthy, quality ingredients chosen for recipes.

Certifications:
• Non-GMO with "Bureau Veritas" for polenta
• IFS with "Bureau Veritas": Higher level
• BRC with "Bureau Veritas": Grade A
• Ministerial authorization in accordance with Italian Legislative Decree 27.1.92 no. 111
• HACCP procedures since 1999
• Certified organic by CCPB, no. CZ/CC 03054


Dehydrated vegetables (potato pieces and flakes, brown beans, peas, carrots, leeks, onions, savoy cabbage, celery, tomatoes, spinach, parsley), durum wheat semolina pasta (durum wheat semolina, water), Olive oil seasoning (potato starch, olive oil, rosemary extract), Salt, Vegetable broth (salt, soybean extract, dehydrated vegetables (carrot, celery, onion), sunflower oil), Yeast extract, Sugar, Artificial flavors, Turmeric. Contains : Wheat, Soya.
Pour the contents of the sachet into a jar with 840 ml (3 cups 1⁄2) of cold water.
Bring to a boil without lid, stirring occasionally.
When water boils, cook over medium heat uncovered for 14 to 16 minutes. Adjust with salt, pepper and extra virgin olive oil to taste.
| | Nutrition Facts | Per 1/3 pack (40 g) | %Daily Value* | Read more |
| --- | --- | --- | --- | --- |
| | Calories | 120 | | |
| | Fat | 1 g | 1% | |
| | Saturated | 0.2 g | 1% | |
| | Trans | 0g | 1% | |
| | Carbohydrate | 23 g | | |
| | Fibre | 6 g | 21% | |
| | Sugars | 6 g | 6 % | |
| | Protein | 5 g | | |
| | Cholesterol | 0 mg | | |
| | Sodium | 480 mg | 21% | |
| | Potassium | 300 mg | 6% | |
| | Calcium | 50 mg | 4% | |
| | Iron | 1.75 mg | 10% | |
---
*5% or less is a little, 15% or more is a lot
Soup and minestrone: working-class ingenuity
Soup comes from the Gothic word "suppa", meaning slice of soaked bread. In the Middle Ages, the nobles used large pieces of bread instead of plates, and all the leftovers would go to the servants once they had finished their meals. The servants would boil the leftovers in a pot with vegetables and water to make a soup! Therefore, soup and minestrone were working-class food.

Over time, by using fresh ingredients such as pasta and legumes, they've become simple and nutritious dishes, warming body and mind: there's nothing better on a chilly day! Fun fact: the first full sentence uttered by a very young Albert Einstein was, "The soup is too hot." His parents were amazed at his complete sentence and asked why he had never spoken until then. The little genius replied, "Because everything has been fine thus far!"

Average rating:
0 reviews