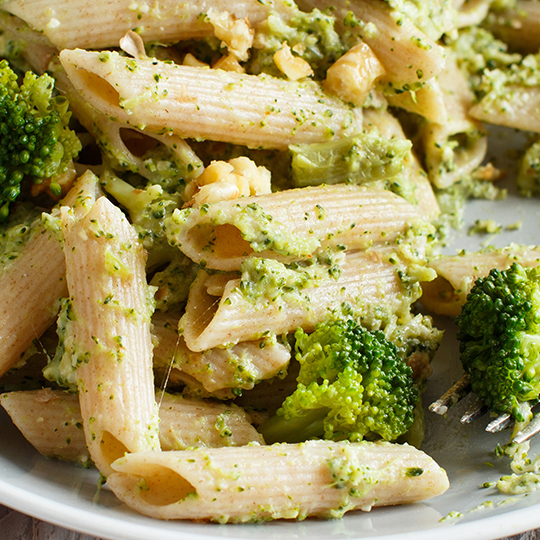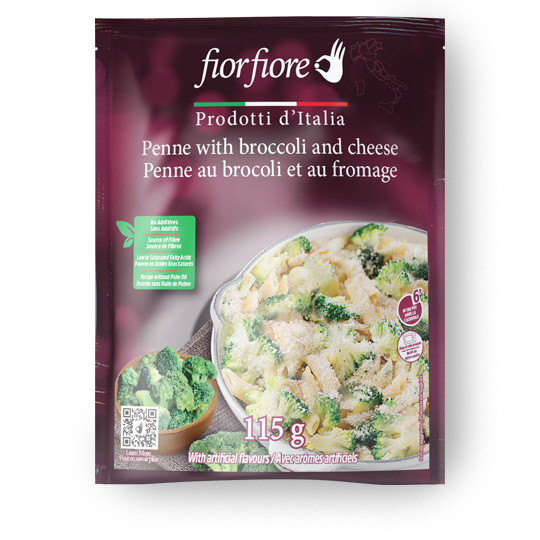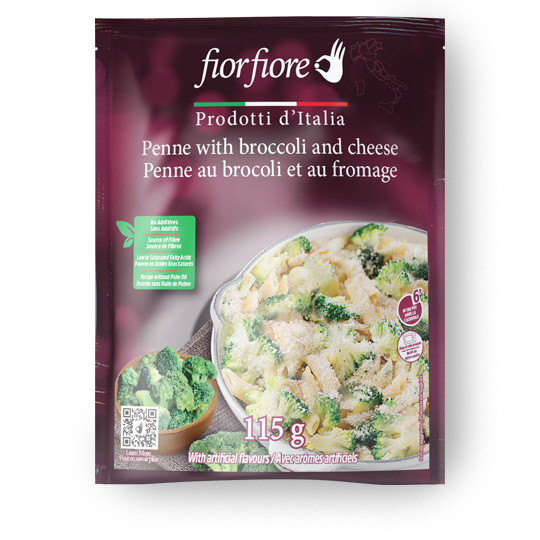 Penne with broccoli and cheese
Broccoli is well-loved for its simplicity and nutritiousness. A true gourmet gem, string cheese makes it even more savoury and flavourful! Experience the authenticity of traditional Italian pasta with broccoli and cheese, ready in a flash with the best pasta and the finest ingredients. Quick and easy to cook on the stove or in the microwave, and strictly free of additives and palm oil. All the simplicity of broccoli and the intensity of cheese, together at last!
THE AUTHENTIC FLAVOUR OF TRADITIONAL ITALIAN RECIPES... WHENEVER, WHEREVER!
FOR THOSE WHO LACK TIME AND AREN'T WILLING TO GIVE UP AUTHENTIC ITALIAN TASTE Only carefully selected, high-quality ingredients without additives or preservatives can bring out the essence of traditional recipes, plain and simple. Awide range of ready-to-heat products, created and designed with convenience in mind. Quick to prepare, thanks to innovative preservation techniques, and oh so tasty!
NO ADDITIVES, PRESERVATIVES OR PALM OIL: JUST PREMIUM INGREDIENTS Fiorfiore Ready Meals contain no additives: this line of products is free of monosodium glutamate, flavourings and preservatives. Nothing but real Italian taste.
AS GOOD AS FRESH Additives with different functions are widely used in the food industry: the most common is monosodium glutamate, a flavour enhancer and an essential component of stock cubes. Its purpose is to "spice up" recipes and sometimes make up for a lack of taste. Unfortunately, this additive dulls all flavours with an equal "base". Without monosodium glutamate, flavour can only be obtained via top-quality ingredients and richer recipes, in order for food to taste as good as fresh.
FREEZE-DRYING: ONE OF THE SAFEST PRESERVATION TECHNIQUES Freeze-drying is among the safest and most advanced modern preservation techniques. It uses a rapid drop in temperature to eliminate water from food while keeping flavours and nutritional values intact, with no need for additives or preservatives.
25 YEARS OF FREEZE-DRIED QUALITY AND PASSION FOR ITALIAN GASTRONOMIC CULTURE Fiorfiore producers specialize in the development and production of quality, ready-to-cook foods containing the best freeze-dried ingredients, selected and brought together to reflect Italian culinary culture. Fiorfiore Ready Meals go through a series of thorough and stringent checks to ensure quality, taste and wholesomeness. Special scanners and auditors ensure that packaged goods contain only the healthy, quality ingredients chosen for recipes.

Certifications:
• Non-GMO with "Bureau Veritas" for polenta
• IFS with "Bureau Veritas": Higher level
• BRC with "Bureau Veritas": Grade A
• Ministerial authorization in accordance with Italian Legislative Decree 27.1.92 no. 111
• HACCP procedures since 1999
• Certified organic by CCPB, no. CZ/CC 03054

Durum wheat semolina pasta (durum wheat semolina, water), Dried broccoli, Skim milk powder, Corn starch, Sugars (lactose), Rice flour, Cheese powder preparation (cheese [milk, salt, rennet], whey, natural flavours, salt), Salt, Yeast extract, Dried onion, Artificial flavours. Contains: Wheat, Milk.
Bring 7/8 cup of water, 3/4 cup of milk and a teaspoon of butter or margarine to a boil in a wide, low pan.
When water boils, pour contents of the bag into the pan and stir.
Cook for 6 minutes on a medium heat. Wait for 1 minute before serve.
| | Nutrition Facts | Per 2/3 pack (77 g) | %Daily Value* | Read more |
| --- | --- | --- | --- | --- |
| | Calories | 260 | | |
| | Fat | 1 g | 1% | |
| | Saturated | 0.4 g | 2% | |
| | Trans | 0 g | 2% | |
| | Carbohydrate | 53 g | | |
| | Fibre | 5 g | 18% | |
| | Sugars | 8 g | 8% | |
| | Protein | 9 g | | |
| | Cholesterol | 0 mg | | |
| | Sodium | 860 mg | 38% | |
| | Potassium | 400 mg | 8% | |
| | Calcium | 150 mg | 12% | |
| | Iron | 1 mg | 5% | |
---
*5% or less is a little, 15% or more is a lot. Penne's history and origin
Penne originated in 1865, in a district of Genoa called San Martino d'Albano. That's where a pasta maker called Giovanni Battista Capurro patented a machine that could cut pasta diagonally without crushing it.

Until then, this had been done by hand using scissors, and the pasta inevitably looked irregular and different every time. In Sicily, this type of pasta came to be known as "maltagliati" (poorly cut) because of that.

Seeing such a clean, perfect cut, the people of Genoa immediately pictured the shape of a "pennino" (fountain pen nib). And so this type of pasta was named PENNE. In Italy, penne are smooth , furrowed and of varying lengths.

Genoa, Liguria.

Average rating:
0 reviews