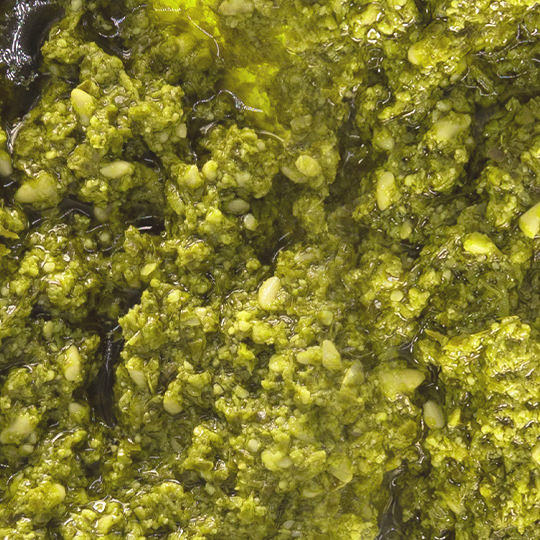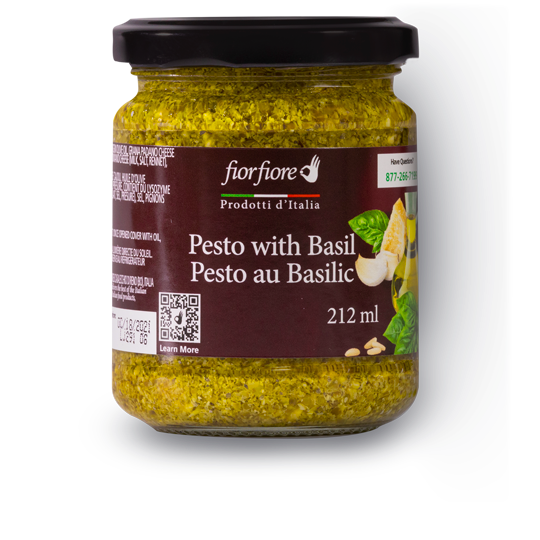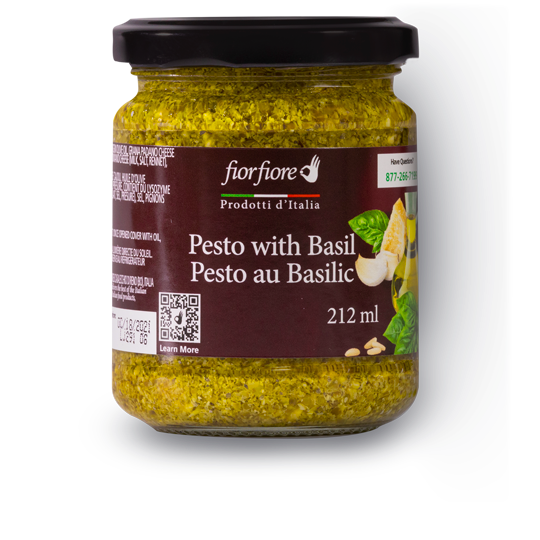 Fiorfiore Pesto with Basil is made using an ancient recipe and processing method traditional to Liguria, its place of origin. The far reaching popularity of this is a simple sauce, made from basil and other readily-available locally grown ingredients, has ensured this fresh green herb is synonymous with its town of birth. Prepared by pounding basil leaves with pine nuts, Italian Grana Padano, pecorino romano, garlic, extra virgin olive oil and a pinch of salt, Pesto maintains the delicious, pungent aroma and taste of its raw ingredients.
The authentic pesto
Fiorfiore pesto is produced in the birthplace of pesto: the northern region of Liguria, where olive trees that have seen centuries grow close to the sea. It is authentic, with all the flavor, aroma and color of the Ligurian tradition. Fiorfiore pesto is approved and loved by Ligurians.
THE FLAVOR OF LIGURIAN BASIL: In Liguria basil is just right for pesto. Go a bit further south and everything changes. The leaves will take on a minty taste that grows stronger as you move south. The ingredients in Fiorfiore pesto come only from the fields of Liguria, where it draws its ancient origins: maximum quality, intense aroma, lively color and unmistakable taste.
WHAT SETS TRADITIONAL PESTO APART?: Ligurian pesto is vividly green and surprisingly creamy. Its piquancy and depth can only be achieved by pounding fresh ingredients with a pestle and mortar. What makes pesto "authentic" is the addition of pecorino cheese from Sardinia, acquired for centuries by Ligurian traders. Favored for its nutty, earthy quality, it is usually added in smaller quantities than parmesan, so it does not overpower the flavor. In Italy pesto is never cooked. It is simply added to pasta at the last minute to retain its vibrancy.
WHAT'S THE HISTORY OF PESTO?: To understand the history of pesto, you need to go back to the 12th and 13th centuries, when Genoa, Capital of the Region, was a republic that included the islands of Corsica and Sardinia. Since then, pesto has been inexorably linked with Genoa's culture. Today, the city hosts a bi-annual World Pesto Championship, open to competitors from around the world. Some passionate defenders of the sauce want to have it added to UNESCO's Intangible Cultural Heritage list.
HOW DO YOU MAKE PESTO?: The word pesto, derives from the verb pestare (to pound or crush). The sauce is made by pounding the ingredients with a pestle and mortar. First, crushing the garlic and sea salt. Then, once the garlic starts to soften, adding the pine nuts. Next comes the basil, which should be crushed gently against the side of the mortar not smashed into the base. Finally, adding the cheese and mixing with olive oil. The finished pesto should be creamy rather than an oily suspension. As with an exact recipe, the art of making great pesto is in balancing the ingredients required by the Ligurian tradition.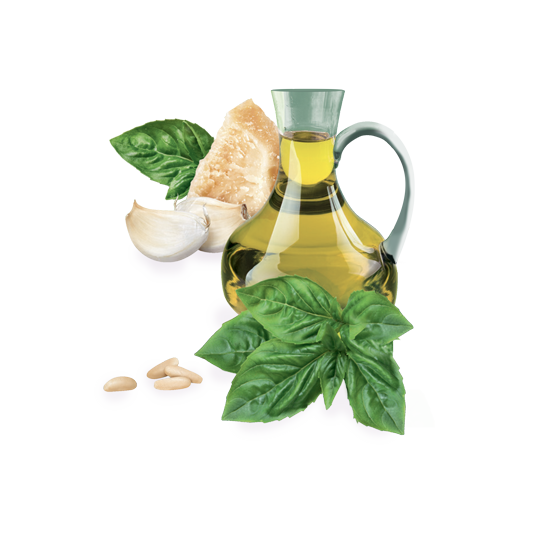 Basil, sunflower oil, cashews, extra virgin olive oil, grana padano cheese (milk, salt, rennet, egg white lysozyme), pecorino romano cheese (milk, salt, rennet), salt, pinenuts, lactic acid, garlic, ascorbic acid.
Store in a cool, dry place out of direct sunlight. Once opened cover with oil, keep refrigerated and use within 5 days.
| | Nutrition Facts | Per 1/4 cup (60mL) | %Daily Value* | Read more |
| --- | --- | --- | --- | --- |
| | Calories | 317 | | |
| | Fat | 32 g | 43% | |
| |    Saturated | 5 g | 26% | |
| | Trans | 0 g | | |
| | Carbohydrate | 2 g | | |
| |    Fibre | 1 g | 4% | |
| |    Sugars | 1 g | 1% | |
| | Protein | 4 g | | |
| | Cholesterol | 6 mg | | |
| | Sodium | 632 mg | 27% | |
| | Potassium | 126 mg | 3% | |
| | Calcium | 111 mg | 9% | |
| | Iron | 3 mg | 15% | |
---
*5% or less is a little, 15% or more is a lot. Pesto:
the green gold of Liguria
Liguria, the Italian Riviera, a coastal region historically tied to trade, boasts many famous destinations, from the jetset Portofino to the "Five Lands" of Cinque Terre, to the port city of Genoa.

Culinary traditions are intrinsically linked to the seafaring history of the region. The cuisine is based on simple, fresh ingredients: wild herbs, Taggiasca olives, anchovies. A wide variety of regional pastas blend perfectly with the native basil pesto, the King of sauces.



Vernazza in province of La Spezia, Liguria.

Average rating:
0 reviews