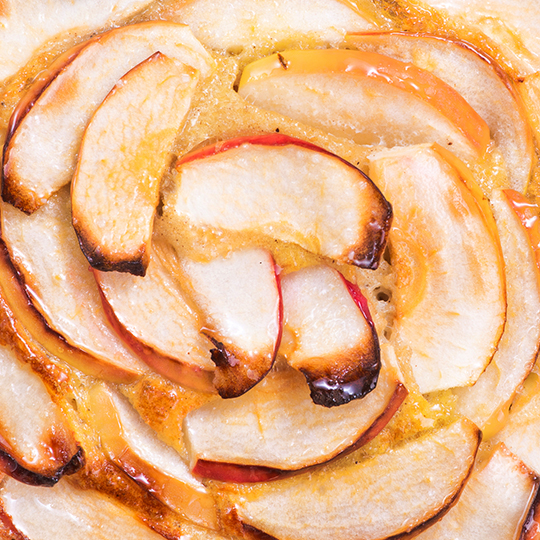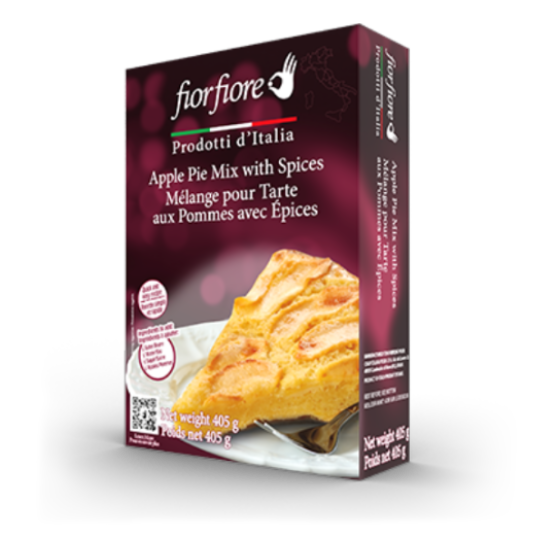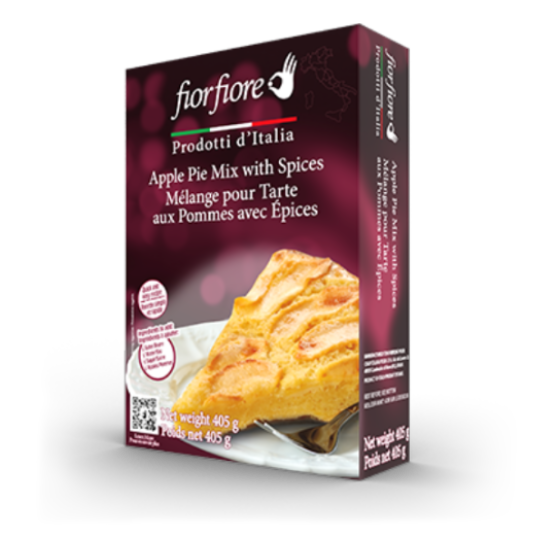 Apple Pie Mix with Spices
All of the taste of Italian classic in a quick and easy recipe with a sweet, spicy aroma. The apple pie is a classic Italian dessert that's great for both children and adults: it is very fragrant and has different textures throughout from its pieces of apple and soft dough. What do you need? Some fresh ingredients and just a few easy steps.
The Cake Invented To Preserve Apples
THE TRADITION CONTINUES. SINCE 1300. According to some sources, the first apple cake saw the light in Europe around 1300. The origin is not very clear but it is certainly a popular recipe. The apple pie was in fact a good solution to preserve apples because, once cooked, they lasted longer. And the tradition continues ... even after the invention of the refrigerator!
A CAKE THAT MEANS AFFECTION. In Italy, apple cake traditionally represents the notion of family, of home and comfort food.
MANY VARIATIONS, FROM NORTH TO SOUTH The apple cake appears in the northern regions of Italy under the name of Strudel. From this then the many variations arose. In fact, each region has its own specialty and each family has handed down their own recipe for generations: apple pie, leavened apple cake, etc.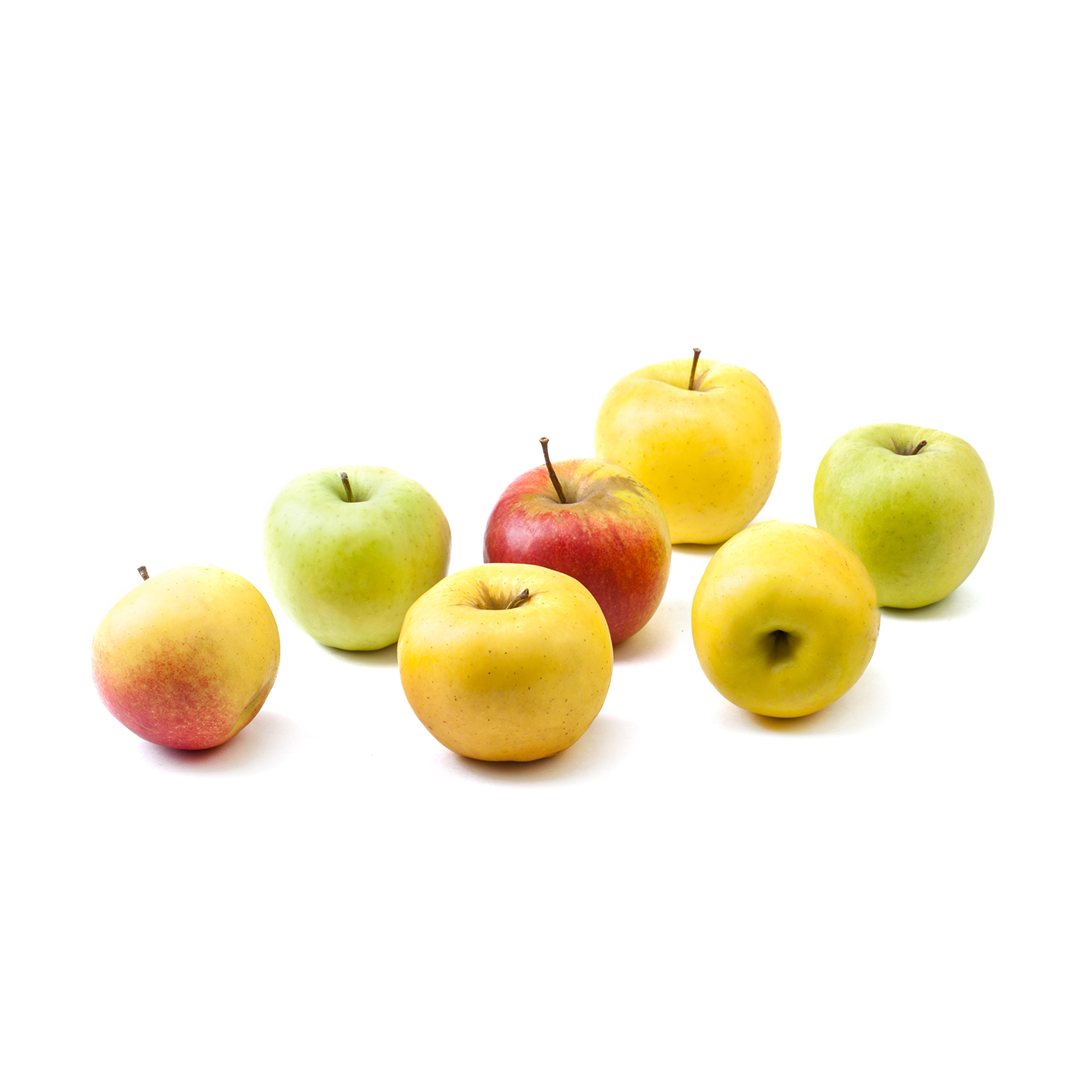 Enriched wheat flour, Salt, Sugar, Sunflower lecithin, Ascorbic acid.
Spices: Ginger, Cinnamon, Nutmeg, Cloves.
Contains: Wheat.

May contain: Soy, Milk, Sesame.
Store in a cool, dry place.
What you need: 200 g of butter, 90 ml of water, 100 g of sugar, 1 kg of apples, 1 lemon, for brushing milk, a bowl, a rolling pin, a 25 cm diameter cake pan.
Put the mix in a bowl, add butter cut in small pieces and cold water. Knead it for 10 minutes, then let the dough rest in the fridge for 20 minutes covered by a food-quality film. Meanwhile, cut apples into small pieces. In a pan warm up sugar and spice mix and add 2 spoons of water and cook until you get large bubbles. Add some curls of butter, apples cut into pieces and grated lemon peel. Sauté for about 3-4 minutes, let it cool. Remove the dough from the fridge and divide it into two pieces. Dust the worktop with some flour. Roll out one part of the dough with a rolling pin, then place it on the cake tin. Fill it with apples. Cover with the remaining part of the rolled out dough, make some cuts on the surface, bake it in preheated oven at 200°C spreading it with some milk every 10 minutes until golden brown. Bake it for 40 minutes.
| | Nutrition Facts | Per 1/4 cup (50 g) | % Daily Value* | Read more |
| --- | --- | --- | --- | --- |
| | Calories | 170 | | |
| | Fat | 0,5g | 1% | |
| | Saturated | 0 g | 0% | |
| | Trans | 0 g | | |
| | Carbohydrate | 35g | | |
| | Fibre | 1 g | 4% | |
| | Sugars | 1 g | 1% | |
| | Protein | 1 g | | |
| | Cholesterol | 0 mg | | |
| | Sodium | 0 mg | 0% | |
| | Potassium | 200 mg | 4% | |
| | Calcium | 20 mg | 1% | |
| | Iron | 4 mg | 22% | |
---
*5% or less is a little, 15% or more is a lot. The Strudel Of Trentino And Southern Tirol
The apple cake appears in Italy in the territories of Trentino Alto Adige and Southern Tyrol, with the name of Strudel. The original Hungarian recipe is immediately personalized. Many Italian variations were created. Each region, in fact, has its own specialty and each family has handed down their own recipe for generations: apple pie, leavened apple cake, etc. Strudel is one of the most known apple desserts in the world. It was spread by the sultan Suleiman the Magnificent starting from 1526. The continuous contacts between the Ottoman and Austrian empires meant that the recipe for strudel was passed around the Austrian empire, which Hungary joined in 1699. From 1867, with the birth of the Austro-Hungarian empire, it arrived in Trentino and Southern Tyrol. This strudel has received the P.A.T. recognition, which identifies it as a traditional Italian product.

Average rating:
0 reviews