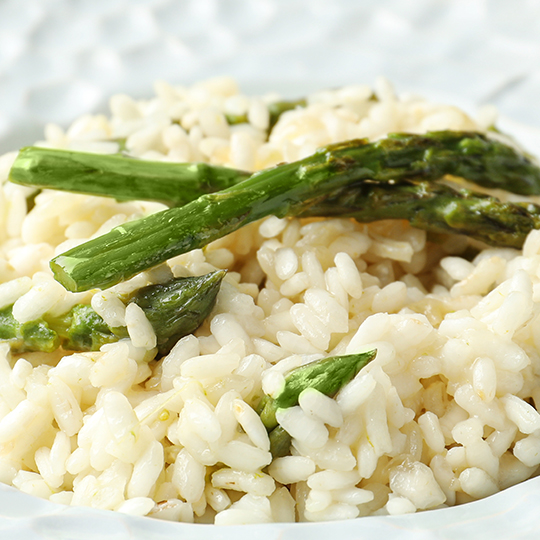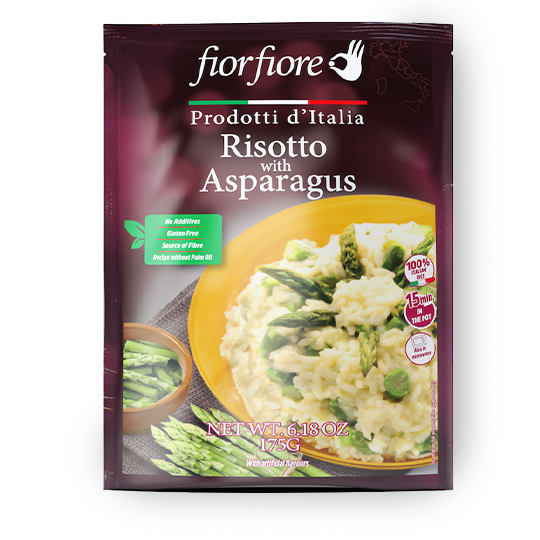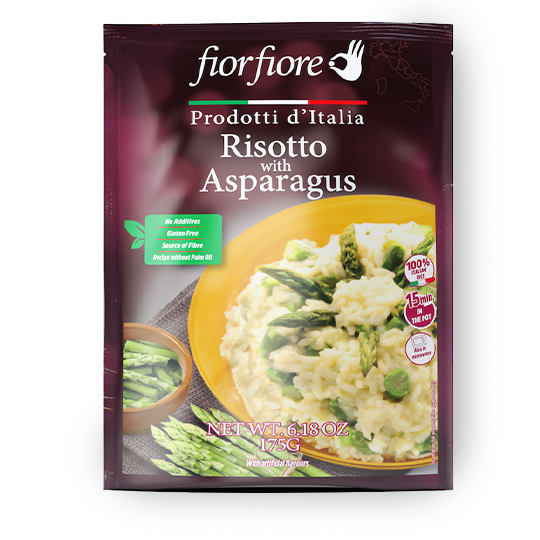 Simple yet refined, it's perfect for many occasions, even the most special. Rice that's 100% Italian, combined with the unmistakably unique taste of asparagus. An authentic Italian experience awaits with this recipe for a wonderful traditional classic. Quick and easy to cook on the stove or in the microwave, it's free of additives and palm oil, and popular with vegetarians, too!
THE AUTHENTIC FLAVOUR OF TRADITIONAL ITALIAN RECIPES... WHENEVER, WHEREVER!
FOR THOSE WHO LACK TIME AND AREN'T WILLING TO GIVE UP AUTHENTIC ITALIAN TASTE Only carefully selected, high-quality ingredients without additives or preservatives can bring out the essence of traditional recipes, plain and simple. Awide range of ready-to-heat products, created and designed with convenience in mind. Quick to prepare, thanks to innovative preservation techniques, and oh so tasty!
NO ADDITIVES, PRESERVATIVES OR PALM OIL: JUST PREMIUM INGREDIENTS Fiorfiore Ready Meals contain no additives: this line of products is free of monosodium glutamate, flavourings and preservatives. Nothing but real Italian taste.
AS GOOD AS FRESH Additives with different functions are widely used in the food industry: the most common is monosodium glutamate, a flavour enhancer and an essential component of stock cubes. Its purpose is to "spice up" recipes and sometimes make up for a lack of taste. Unfortunately, this additive dulls all flavours with an equal "base". Without monosodium glutamate, flavour can only be obtained via top-quality ingredients and richer recipes, in order for food to taste as good as fresh.
FREEZE-DRYING: ONE OF THE SAFEST PRESERVATION TECHNIQUES Freeze-drying is among the safest and most advanced modern preservation techniques. It uses a rapid drop in temperature to eliminate water from food while keeping flavours and nutritional values intact, with no need for additives or preservatives.
25 YEARS OF FREEZE-DRIED QUALITY AND PASSION FOR ITALIAN GASTRONOMIC CULTURE Fiorfiore producers specialize in the development and production of quality, ready-to-cook foods containing the best freeze-dried ingredients, selected and brought together to reflect Italian culinary culture. Fiorfiore Ready Meals go through a series of thorough and stringent checks to ensure quality, taste and wholesomeness. Special scanners and auditors ensure that packaged goods contain only the healthy, quality ingredients chosen for recipes.

Certifications:
• Non-GMO with "Bureau Veritas" for polenta
• IFS with "Bureau Veritas": Higher level
• BRC with "Bureau Veritas": Grade A
• Ministerial authorization in accordance with Italian Legislative Decree 27.1.92 no. 111
• HACCP procedures since 1999
• Certified organic by CCPB, no. CZ/CC 03054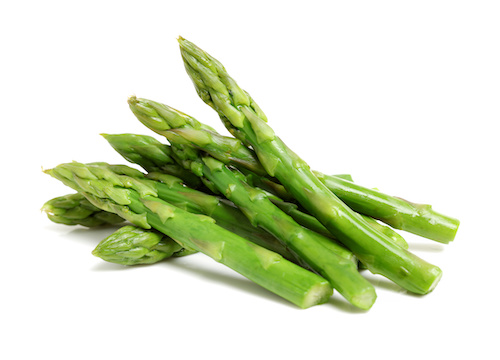 Precooked rice, Sugars (lactose, potato maltodextrin), Rice flour, Corn starch, Freeze-dried and dehydrated asparagus, Salt, Artificial flavours, Cream, Yeast extract, Dried pea powder, Dried onion, Dried parsley, Turmeric. Contains: Milk.
Pour the pouch contents and 2 1⁄2 cups of water into a non-stick saucepan.
Stir occasionally and bring to a boil.
Reduce heat and cook uncovered
for 15-17 minutes, then remove from heat and add butter. If desired, top with freshly grated Parmesan cheese
and stir until creamy.
| | Nutrition Facts | Per 1/2 pack (88 g) | %Daily Value* | Read more |
| --- | --- | --- | --- | --- |
| | Calories | 300 | | |
| | Fat | 2.5 g | 3% | |
| | Saturated | 1 g | 5 % | |
| | Trans | 0 g | 5 % | |
| | Carbohydrate | 65 g | | |
| | Fibre | 6 g | 21 % | |
| | Sugars | 6 g | 6 % | |
| | Protein | 6 g | | |
| | Cholesterol | 0 mg | | |
| | Sodium | 530 mg | 23% | |
| | Potassium | 300 mg | 7% | |
| | Calcium | 20 mg | 1% | |
| | Iron | 1 mg | 6% | |
---
*5% or less is a little, 15% or more is a lot Milan and the birth of risotto
Rice reached Europe just over 500 years ago, making it the last Old-World continent to benefit from this grain. Risotto as we know it originated in Milan in the 1900s. It can therefore be said that, compared to Italy's centuries-old culinary tradition, risotto is relatively recent.

Cultivated in Mesopotamia for thousands of years, rice came to Europe through exchanges that the Greeks and Romans had with Egypt. What's peculiar is that it wasn't used as food, but as medicine infused into broth. That was the case until the year 1400.

It was only when the Spanish rulers arrived in the port of Naples that rice became food. In fact, the Neapolitans adopted an ancient Catalan recipe and called it "il bianco mangiare" (white food): a savoury pudding with chicken and rice flour. Rice went on to spread across Italy, and in Milan it was called "riso di Spagna" (rice from Spain).
In the early 1500s it was decided that Italy would cultivate rice as well, and in just over 20 years the entire north of the peninsula was scattered with rice fields, particularly the Milan area. Bread was made with rice flour and boiled in water or broth like a soup. In the Mantua area, a similar recipe still exists called "riso alla pilota" (pilot's rice). And so for centuries, there was not a trace of risotto. By the mid-1800s, rice had become a staple food in northern Italy, adopted throughout the country via Milan and Lombardy in general.

That's when the first risotto recipe came about. Let's go back in time to 1853 Milan. In the book "Nuovo cuoco milanese economico", Giovanni Felice Luraschi wrote the first recipe for risotto alla milanese, which has remained unchanged to this day. Thanks to Milan's risotto alla milanese dish, rice went from peasant food for using up leftovers, to being valued and in demand.

In the early 20th century, the cultivation of Italian rice became more widespread and special varieties were created, including vialone, carnaroli, arborio, Roma, and baldo. From Milan, risotto conquered the rest of Italy. Since then, special risottos have emerged in every region, offering plenty of options for all tastes.

Milan, Lombardy.

Average rating:
0 reviews