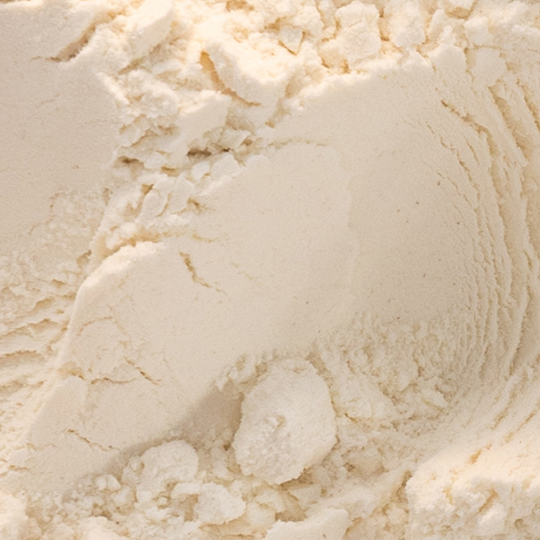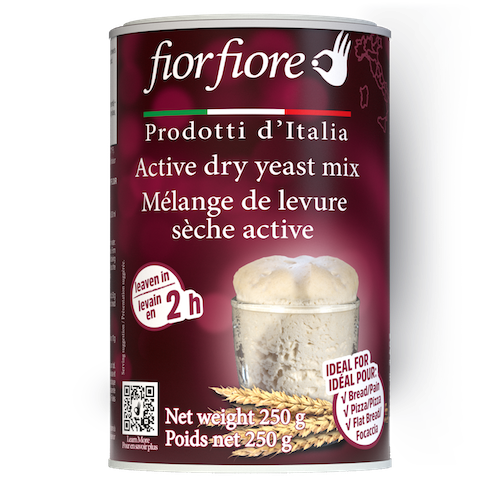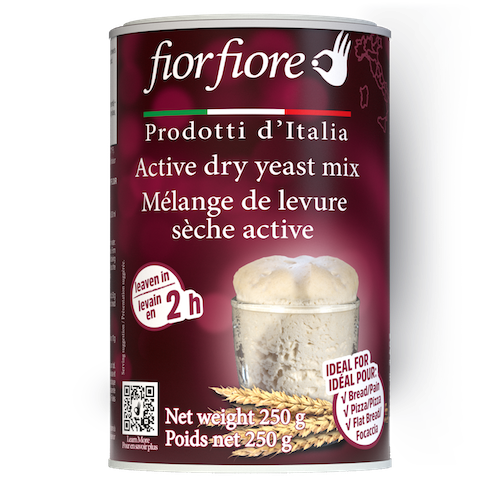 Fiorfiore sourdough starter is very versatile and Ideal for those who enjoy the creativity you can achieve in the kitchen. It is perfect for making breads, pizzas and focaccia. Easy to digest, it leaves a pleasant sensation of lightness. The practical package keeps it fresh and guarantees a longer shelf life in the pantry at home: it can be conveniently opened and closed, maintaining the precious properties of freshness and fragrance.
Sourdough Starter: Fragrant And Light
THE TRADITIONAL WAY OF MAKING BREAD: THOUSANDS OF YEARS OF HISTORY. Yeast is deeply rooted in our past. It is tied to the traditional ways of making bread, dating back thousands of years.
THE LEGEND OF YEAST. Around 2000 BC a raw piece of dough for unleavened bread was left under the Egyptian sun. As it fermented, it soon became swollen and larger. Someone had the idea of cooking it and obtained a lighter, more fragrant bread with a decidedly pleasant consistency.
THE MAGIC OF LEAVENING. Repeating the experiment, it was soon realized that a small piece of raw dough for fresh bread could be used to trigger the leavening in the next batch: it swelled with bubbles and had a slightly acidic smell.
THE INVENTION OF THE SOURDOUGH STARTER. The mother yeast, sourdough or natural yeast, is thus born. It is a part of dough used for bread, left to ferment for several days. It is obtained from the fermentation of the flour by micro organisms (bacteria and yeasts) which can be naturally present or added.
WHAT IS MOTHER OR NATURAL YEAST. Mother yeast is a mixture of water, flour and an active agent containing simple sugars. Apple and honey are common active agents. Yeasts and bacteria attack the sugars in the agent and the flour and, together with specific enzymes, transform the sugars into acids, alcohol and aromatic substances.
Enriched wheat flour, dried sourdough (fermented wheat germ flour), dried brewer's yeast, wheat gluten, enzymatic mix (wheat flour, amylase, xylanase, lipase, dextrose), ascorbic acid.contains: wheat. May contain: soy.

BREAD PREPARATION INSTRUCTIONS
YOU NEED: 500 g of flour for bread, 50 g of dry sourdough and yeast mix, 10 g of salt, 300 ml of water.
BREAD WITH SOURDOUGH – PREPARATION BY HAND
Pour into a bowl 500 g of flour for bread, 50 g of sourdough, 10 g of salt and 300 ml of water. Mix well and knead for about 10 minutes until the dough is smooth and homogeneous. Form the loaf, cover it and leave to rise for 120-180 minutes on a baking tray overed with baking paper in a warm place.
Place a saucepan of water in the oven and preheat it. Take out the saucepan
just before baking the bread. Bake the bread at 425°F for 25-30 minutes.
BREAD WITH SOURDOUGH – PREPARATION WITH BREAD MACHINE
Pour 300 ml of water into the bread machine tank, in a bowl mix 500 g of flour
for bread, 50 g of sourdough and 10 g of salt. Pour the flour mix into the tank
and start the classic bread program (minimum 2 hours and a half).
| | Nutrition Facts | Per 1/4 tsp (0,6 g) | %Daily Value* | Read more |
| --- | --- | --- | --- | --- |
| | Calories | 0 | | |
| | Fat | 0 g | 0% | |
| | Saturated | 0 g | 0% | |
| |    Trans | 0 g | | |
| | Carbohydrate | 0 g | | |
| | Fibre | 0 g | 0% | |
| | Sugars | 0 g | 0% | |
| | Protein | 0 g | | |
| | Cholesterol | 0 mg | 0% | |
| | Sodium | 0 mg | 0% | |
| | Potassium | 0 mg | 0% | |
| | Calcium | 0 mg | 0% | |
| | Iron | 0 mg | 0% | |
---
*5% or less is a little, 15% or more is a lot. ITALIAN
BREADS: OVER 250 VARIETIES
Over the course of the centuries, about 250 types of bread have originated in Italy. They vary from region to region and reflect the wide variety of cereals that have been cultivated throughout the Italian countryside for centuries: spelt, barley, rye, wheat, and oats. It was the ancient Romans who are credited for transforming bread making into an art form.

The best known Italian breads are Lazio's rosette, the unsalted breads from Tuscany and the Marche, the pitta of Calabria, the Pugliese bread of Altamura, the wheat breads of Salento, the Sardinian carasau, and the Turin breadsticks of Piedmont.




Wheat field in Tuscany.
Average rating:
0 reviews