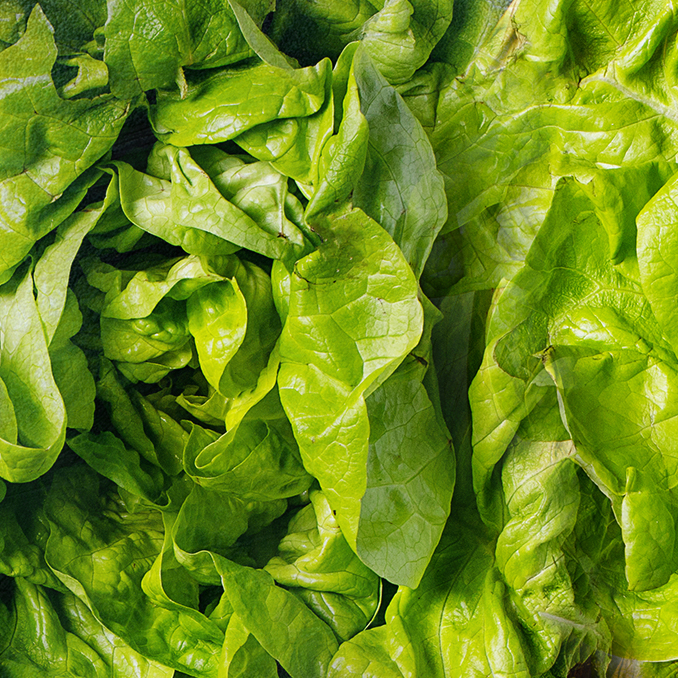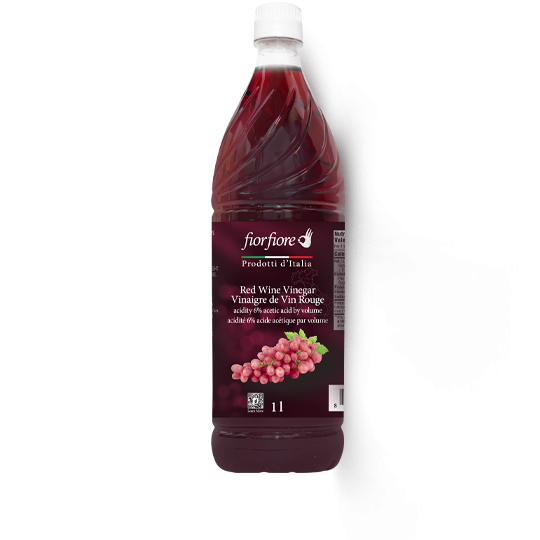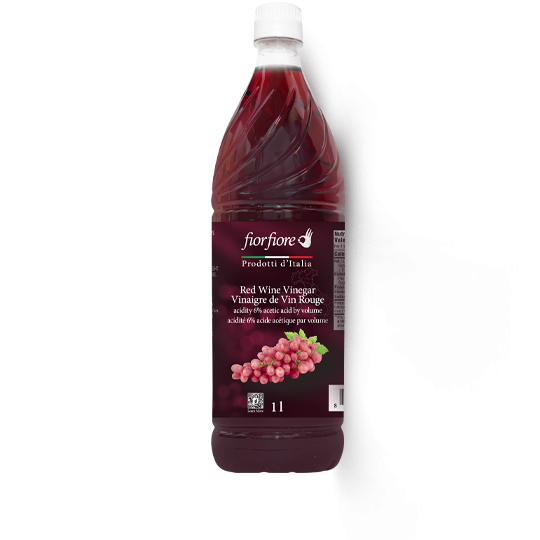 6% d'acidité
Un vinaigre de haute qualité fabriqué à partir de vins rouges 100% italiens choisis avec soin. C'est un produit naturel, autrefois utilisé dans la Grèce antique ainsi que par les légionnaires romains en tant que breuvage désaltérant. C'est l'un des ingrédients de base de la tradition culinaire italienne et, grâce à sa très faible teneur en calories (seulement 2 calories par cuillère à soupe), il est utilisé pour aromatiser les salades et bien d'autres plats.
5 choses à savoir au sujet du vinaigre
THE FIRST CONDIMENT USED BY MAN: The most common dressing used by the Romans was vinegar, not oil. Apicius tells us about it in his recipes, among which was "l'acetaria"; a vegetable and fruit salads seasoned with different types of vinegar sauces. One of the favorite dishes of the Roman Legionaries was the "moretum"; a salad of garlic, onion, rue, goat cheese and coriander, seasoned with vinegar and accompanied by "posca", a refreshing and energetic drink made of vinegar and water. The origins of vinegar are even older: it is mentioned in the Old Testament and the Babylonians used it as a condiment or as a drink mixed with water. Traces of vinegar were also found in Egyptian urns.
THE SECRET OF A GOOD VINEGAR? QUALITY WINE: The quality of the wine determines the flavor of the vinegar. The equation is very simple: to obtain high quality vinegar you have to start from good wines. If it were to be produced from reject wine, like what was used in the poor folk tradition where nothing was discarded, the difference would be immediately perceived in the color, the aroma and the flavor.
HOW VINEGAR IS MADE: Vinegar derives from the fermentation of wine at optimal temperature. Bacteria oxidize the wine in special containers where air circulates continuously under constant quality control. It is the air that causes fermentation. After that it is passed through a filtration phase. In old times, vinegar was produced in a very simple way, leaving the wine for a long time (months) in the open air until it turned sour, obtaining very variable results. By the 1700s systems and techniques began to be developed which, over time, allowed us to obtain better quality vinegar in a shorter time.
VINEGAR IN THE KITCHEN Many are the uses of vinegar in the kitchen. One of the most common is as seasoning for salads. It is also used to lighten greasy sauces, make meat softer, raw-cooking freshwater fish and some saltwater fish or meats. A long time ago, perhaps by chance, we discovered that vinegar could also help store food without it going bad: hence pickles were born.
THE PROPERTIES OF VINEGAR In addition to making dishes tasty, vinegar has antimicrobial properties. Seasoning food with vinegar, especially vegetables, reduces the presence of bacteria. Soaking fruit and vegetables in a container of water and vinegar is an excellent, scientifically proven, natural disinfectant. Many researches also have shown that vinegar reduces the glycemic peak when consumed with starchy meals. In weight-reducing diets, nothing is better than vinegar which, with its low calorie content, provides only three calories per person in a salad. With the important contribution of vitamins, minerals, enzymes and amino acids, vinegar promotes the metabolism by producing digestive enzymes and thus facilitating the absorption of nutrients.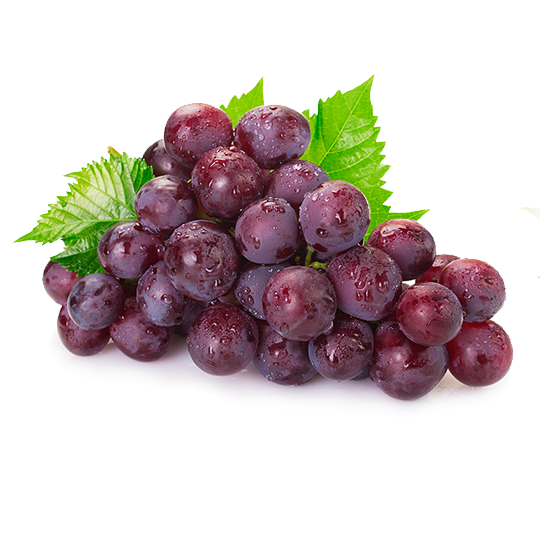 Red wine vinegar, sulphites
Ready to use. Store in a cool, dry place away from light
| | Valeur Nutritive | Per 1 tbsp (15ml) | %Daily Value* | Read more |
| --- | --- | --- | --- | --- |
| | Calories | 3 | | |
| | Lipides | 0g | 0% | |
| | Saturés | 0g | 0% | |
| | Trans | 0g | | |
| | Glucides | 0g | | |
| |    Fibres | 0g | 0% | |
| |    Sucres | 0g | 0% | |
| | Protéines | 0g | | |
| | Cholestérol | 0mg | 0% | |
| | Sodium | 1mg | 0% | |
| | Potassium | 10mg | 0% | |
| | Calcium | 0mg | 0% | |
| | Fer | 0mg | 0% | |
---
*5% ou moins c'est peu, 15% ou plus c'est beaucoup.
MAGNA GRAECIA AND THE SECRETS OF VINEGAR
It is believed that it was the Greeks who spread the use of vinegar in Italy. Between the seventh and fifth centuries BC, in fact, the Greeks colonized the areas of southern Italy corresponding to the regions of Calabria, Campania, Basilicata and Puglia. Many thriving cities were founded there, including Naples, Catania, Taranto, Crotone, Gallipoli, Paestum and Syracuse, the city of Archimedes.

That part of Italy that was colonized by the Greeks is called Magna Graecia. Since then, the use of vinegar has expanded outside of kitchen to include applications in health and well-being.

Vous pourriez aussi apprécier...
Average rating:
0 reviews