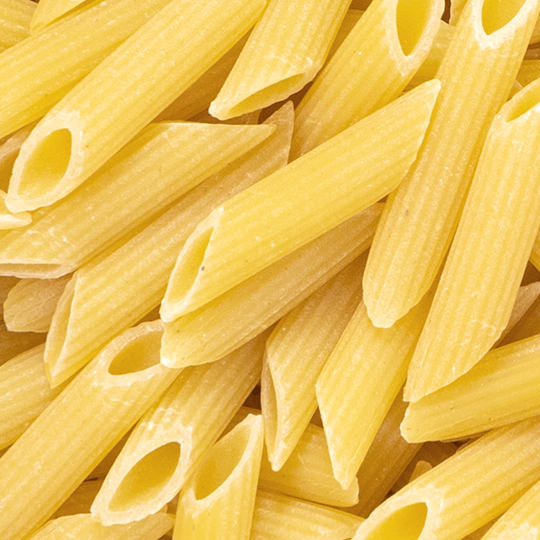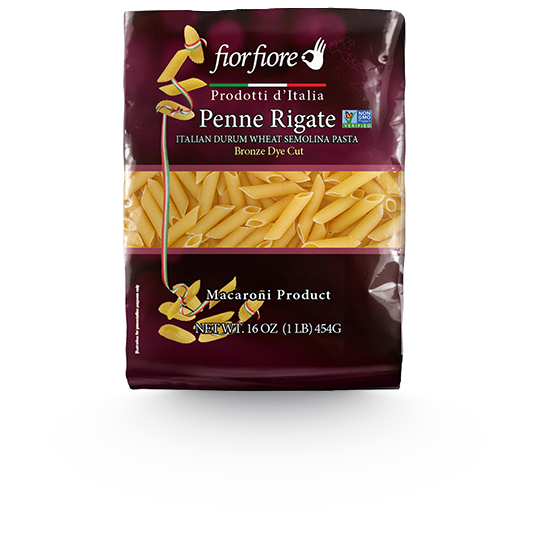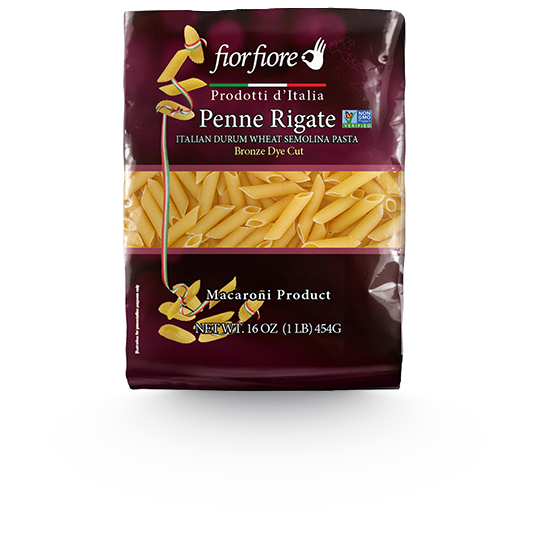 Penne was first created in Genoa in the nineteenth century and was named after it's resemblance to the shape of a fountain pen nib. Thanks to its size, cylindrical shape, and ribbed surface, Penne holds pasta sauce well, both inside and out, and is delicious when paired with pesto, marinara, or arrabbiata sauces.
Authentic Italian Pasta
QUALITY COMES WITH TIME: We understand that good food comes from quality ingredients, and great food comes with time. That's why we use the best ingredients and traditional, low-temperature, artisanal preparation methods to bring to you an aromatic, flavorsome, perfectly textured pasta that to which sauce clings rather than slides.
ARTISANAL BRONZE-CUT PASTA: Traditional Italian bronze-cut pastas are slightly coarser than the modern day faster produced Teflon, resulting in a pasta that cooks better and holds the sauce the way it should, rather than slipping off in a pool at the bottom of your bowl. We choose Italian pasta factories that extrude pasta with bronze-cut dies, because at Fior Fiore, we don't prioritize production speed at the cost of quality.
SLOW, LOW TEMPERATURE DRYING: Fior Fiore pasta takes12 hours to dry, passing through different climatic zones. This slow, low temperature drying is critical to preserve the aroma, flavor and some nutritional value of the wheat and to maintain a consistently high quality and texture. Our slow, traditional drying methods are what set Fior Fiore worlds apart from industrial pasta that dries for less than two hours at high temperatures.
PERFECT PASTA JUST IN 10 MINUTES:It's widely understood that the thickness of pasta affects its cook time and presentation. Thick pasta holds its form better, but requires fourteen to fifteen minutes to cook. Fior Fiore has rewritten the rules after 30 years of formulating, testing, adjusting recipes, to create a perfectly textured and shaped pasta that is fully cooked in 10 minutes. Now you can enjoy a perfect, full flavored, al dente pasta, pasta in less time, every time.
AL DENTE PASTA EASIER TO DIGEST: Experts suggest that pasta should be drained at the right time and eaten al dente (when it is tender outside but still firm inside). This cooking method enhances the taste and makes pasta easier to digest.

Bring 1 litre of water to a rapid boil. Add a pinch of salt. Gradually add pasta to the boiling water. Stir gently and return to a rapid boil. Cook without a lid, stirring occasionally for the minutes indicated on the package or until reaching the desired degree of tenderness. Drain and season to taste.

Cooking time: 9 minutes.
| | Nutrition Facts | Per 2/3 package (56g) | %Daily Value* | Read more |
| --- | --- | --- | --- | --- |
| | Calories | 200 | | |
| | Fat | 1g | 1% | |
| |    Saturated | 0g | 0% | |
| |    Trans | 0g | | |
| | Total Carbohydrate | 42g | 15% | |
| |    Fiber | 2g | 7% | |
| |    Sugars | 2g | | |
| | Protein | 7g | | |
| | Cholesterol | 0mg | 0% | |
| | Sodium | 0mg | 0% | |
| | Potassium | 130mg | 2% | |
| | Calcium | 10mg | 0% | |
| | Iron | 0.6mg | 4% | |
| | Vitamin D | 0mcg | 0% | |
---
*5% or less is a little, 15% or more is a lot.
The importance of pasta in Italy
Italy is the only country where pasta serves as the foundation of the national cuisine.

The multiple types, and the variety of flours used, illustrate both the central role this food plays in the Italian diet and each region's ability to differentiate and identify itself through the varieties of pasta it produces.

Historians continue to debate pasta's origin across the Italian peninsula. Some say Marco Polo brought it from Asia, others claim that the Etruscans came up with the recipe as a means to preserve the flour. Its nutritional value and long shelf life made it a versatile product for trading in the Mediterranean throughout the Middle Ages, and a staple in many households for centuries. Italians often say, "it is not a meal without pasta".



Wheat field in Tuscany.
Average rating:
0 reviews