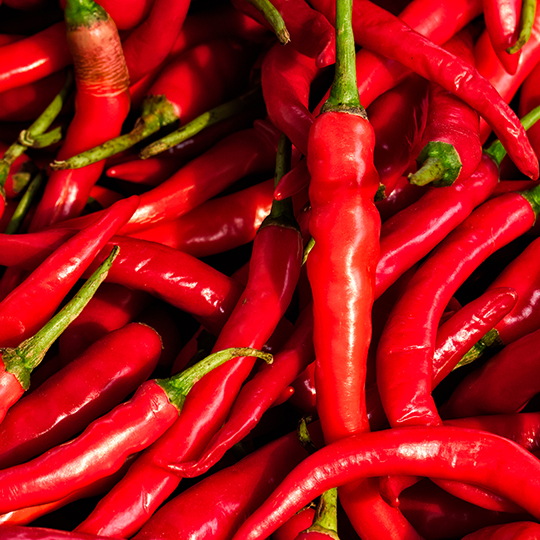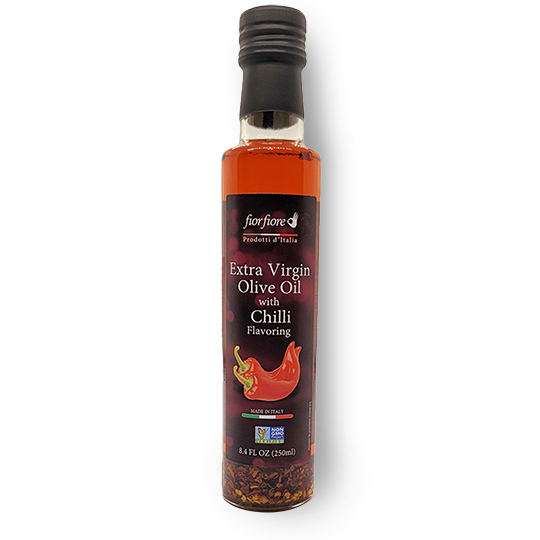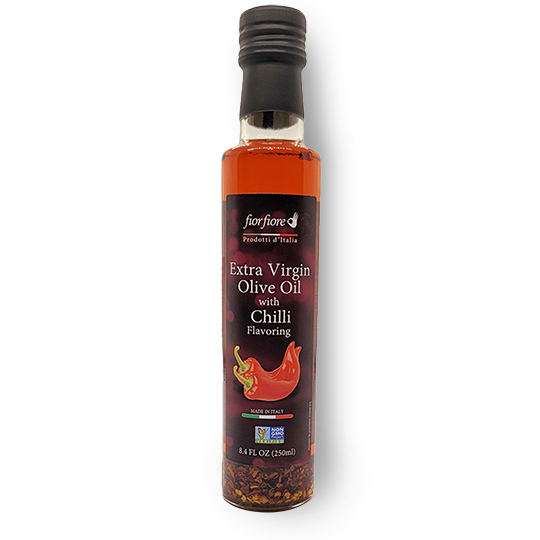 Extra Virgin Olive Oil With Chilli Flavoring
Two ingredients that come together to achieve perfection: the best high quality fresh chillies, carefully selected for their intense notes, are infused in pure premium extra virgin olive oil, harvested and pressed at the right time. Chili pepper is a fundamental ingredient in the Mediterranean diet and Italian cuisine uses it in a thousand preparations: infused in extra virgin olive oil, it makes each dish a specialty!
NOT ONLY AROMA: PURE EXTRA VIRGIN OLIVE OIL AND HIGH QUALITY CHILI PEPPER
INFUSION MADE AS IT ONCE WAS. Extra virgin olive oil is a staple in Italian cuisine, and since ancient times it has been infused with spices. Only through a rigorous process of selection of raw materials, as tradition dictates, are the flavors, aromas and all the organoleptic properties of both the extra virgin olive oil and the infusion ingredients it enhances.
PICKED AND PRESSED: ONLY PURE EXTRA VIRGIN OLIVE OIL. The manufacturing process is traditional and subject to high analytical standards. The extra virgin olive oil is obtained by mechanical pressing of the olives, harvested at the right moment of ripeness, through a continuous cycle extraction plant (press), at low temperatures (27 degrees celsius) to preserve all the aromas of the infused vegetable. A delicate oil results from this process, ready to enhance the essence of the chili pepper.
ONLY HIGH QUALITY CHILI PEPPERS. The selected chili pepper is of excellent quality, fresh, with pleasant and intense notes.
THE SECRET OF THE DECANTING PROCESS. The chili pepper is infused in extra virgin olive oil in special steel tanks for about 15 days, to let the oil extract all the aromas of the spice. During this time, expert tasters carry out repeated tests to reach the correct level of fragrance and flavor.
THE PROPERTIES OF THE CHILI PEPPER. Chili peppers are a fascinating food. Their bright red color make them pleasant to look at, and they have intrinsic characteristics and a lively spiciness. They have an ancient history that takes us back to the time of pre-Columbian civilizations: Maya, Inca and Aztecs appreciated them for the ease with which they could be cultivated and for the effects believed to be magical and aphrodisiacal. In fact, it was present in every moment of daily life, both as food and medicinal source. Today it abounds in Italian and Mediterranean cuisine.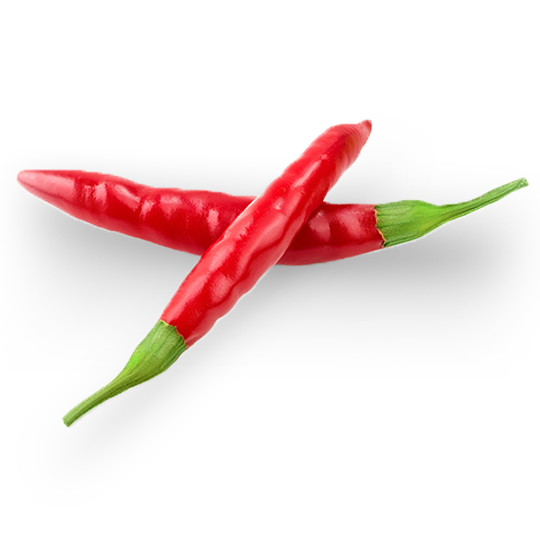 Extra virgin olive oil, dried chilies, chilies natural flavour.
Use in salads, even on meat and fish as a final aromatic touch. Store in a cool, dry and dark place.
| | Nutrition Facts | Per 1 tbsp (15ml) | %Daily Value* | Read more |
| --- | --- | --- | --- | --- |
| | Calories | 120 | | |
| | Fat | 14g | 18% | |
| | Saturated | 2g | 10% | |
| | Trans | 0g | | |
| | Carbohydrate | 0g | | |
| | Fibre | 0g | | |
| | Sugars | 0g | | |
| | Protein | 0g | | |
| | Cholesterol | 0mg | 0% | |
| | Sodium | 0mg | 0% | |
| | Potassium | 0mg | 0% | |
| | Calcium | 0mg | 0% | |
| | Iron | 0mg | 0% | |
---
*5% or less is a little, 15% or more is a lot. Red and chilli peppers, the fire of the South
Along with tomatoe, courgette and aubergine, pepper is the most popular Italian vegetable, especially in summer. The key regions for pepper cultivation are found in Puglia and Campania, specifically in Salerno (with Agro Nocerino Sarnese, Piana di Battipaglia) and Caserta, Calabria and Basilicata regions.

Fresh, dried, smoked, cooked or raw, chili peppers are widely used as a base for regional dishes in Italy, especially in Calabria and, in general, throughout the southern peninsular.

Chili pepper cultivation is also widespread in the Sicilian territories that are located on the slopes of the Etna volcano.



Mount Etna in province of Catania, Sicily.

Average rating:
0 reviews