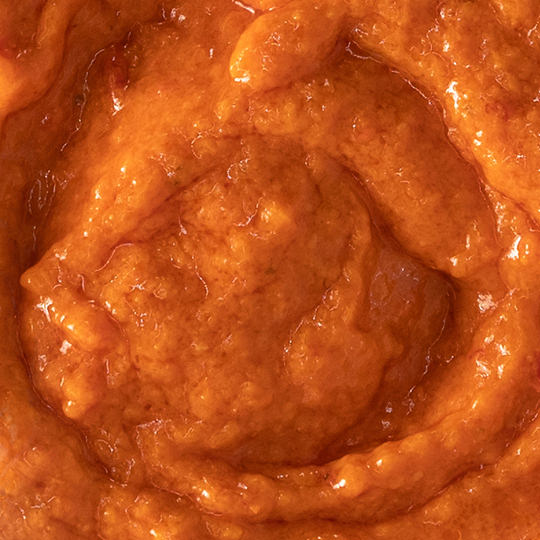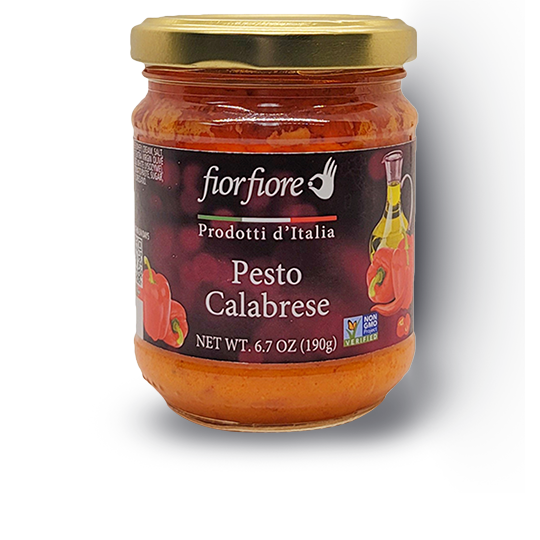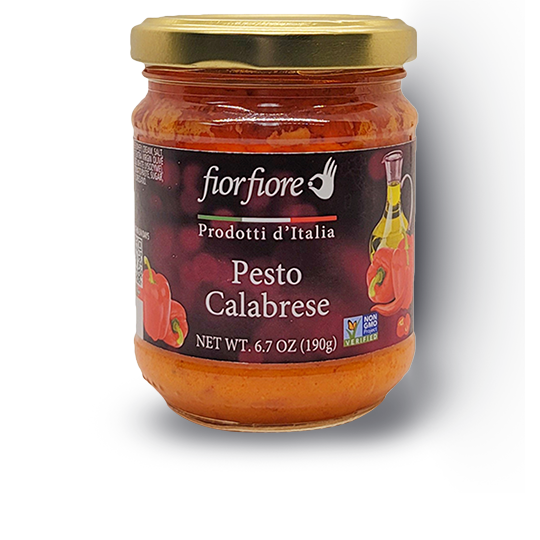 Rich in flavors of a wild and generous land, Calabrese Pesto is made from ricotta, sweet tomatoes and hot peppers, making it the perfect choice for pasta or to spread on a freshly baked, crusty bread. Calabrese pesto is unique in that it is the only Italian pesto that does not use basil as an ingredient.
The simplicity and flavors of a generous land
To tell the truth, it would be inappropriate to call it pesto since the preparation does not involve the use of the mortar and pestle, but the name stuck and has thus been handed down.
THE ONLY PESTO IN ITALY WHERE BASIL IS NOT PRESENT: Calabrian pesto has, in its simplicity, the flavors of a wild and generous land. It's a sauce made with tomatoes, peppers and ricotta, perfect for dressing pasta or to be spread on warm toasted bread. Calabrian pesto is the only pesto in Italy where basil is not present.
HOW CALABRIAN PESTO WAS BORN: Calabria is a hot and rugged land, very sunny but generous, full of aromas and simple ingredients ripened in the rays of a sun which, beating hard, gives tomatoes and peppers a bright red color. Herds of goats and sheep adapt to the environment which is as beautiful as it is difficult. From their milk, abundant ricotta is produced. Thus was born the Calabrian pesto. A condiment that draws inspiration from the Ligurian recipe, but uses completely different ingredients.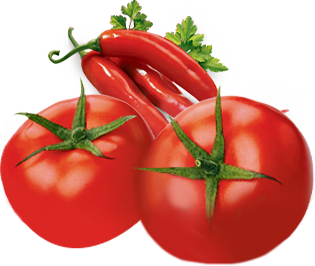 Red peppers, Sunflower oil, Ricotta (Whey, Cream, Salt, Lactic acid), Onion, Glucose syrup, Salt,
Extra virgin olive oil, Grana Padano cheese (Milk, Salt, Rennet, Egg white Lysozyme), Pecorino romano cheese (Milk, Salt, Rennet), Cornstarch, Tomato paste, Sugar, Lactic acid, Natural flavor, Chili Pepper, Oregano.
Empty contents into a pan. Heat gently and stir into cooked pasta and serve immediately. Store in a cool, dry place out of direct sunlight.
Once opened cover with oil, keep refrigerated and use within 5 days.
| | Nutrition Facts | Per 1/4 cup (60mg) | %Daily Value* | Read more |
| --- | --- | --- | --- | --- |
| | Calories | 180 | | |
| | Fat | 17g | 22% | |
| |    Saturated | 3g | 15% | |
| |    Trans | 0g | | |
| | Total Carbohydrate | 5g | 2% | |
| |    Fiber | <1g | 2% | |
| |    Sugars | 3g | | |
| | Protein | 2g | | |
| | Cholesterol | 5mg | 2% | |
| | Sodium | 710mg | 31% | |
| | Potassium | | 2% | |
| | Calcium | | 4% | |
| | Iron | | 4% | |
| | Vitamin D | | 0% | |
---
*5% or less is a little, 15% or more is a lot. Calabria: the toe of the boot
Its unique geography makes Calabria special. Brushed by the warm winds of northern Africa, surrounded at large by the Mediterranean and covered in both mountain ranges and fertile plains, Calabria takes advantage of its natural traits to deliver a bountiful harvest from both land and sea.

Preserves are important staples and range from salted fish, like sardines and cod, to cured meats, cheeses and vegetables packed in olive oil. But one thing makes Calabria stand out: its generous use of hot peppers. Fresh, dried, smoked, cooked or raw, hot peppers are widely used as a base for many of its regional dishes.



Church of Santa Maria dell'Isola, Tropea in province of Vibo Valentina, Calabria.
Average rating:
0 reviews