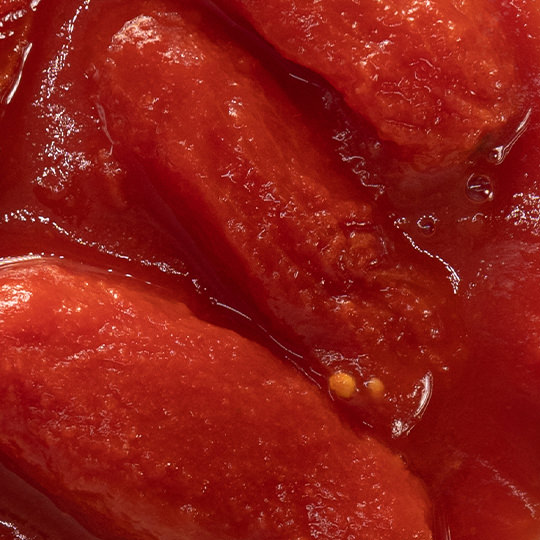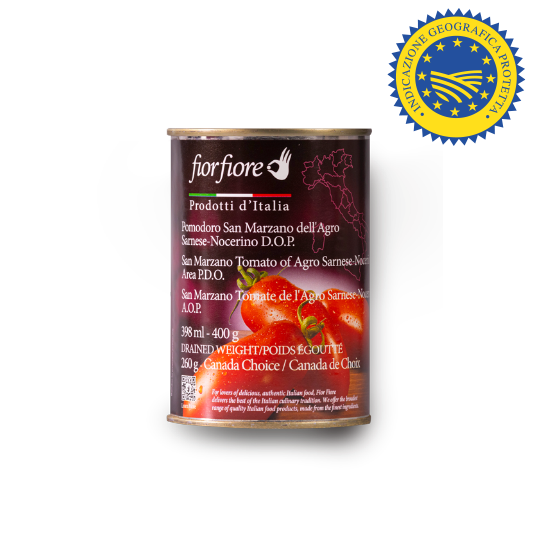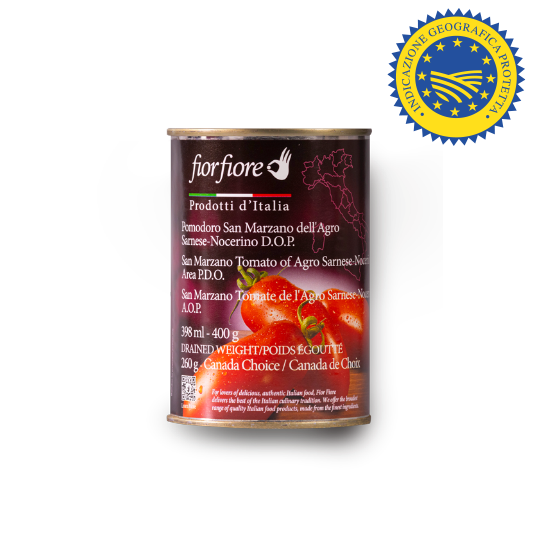 San Marzano Tomato D.O.P.
Real San Marzano Tomatoes D.O.P. are grown in the Agro Sarnese Nocerino area, a Protected Designation of Origin, where all tomatoes are produced according to strict traditional cultivation and processing rules. The tomatoes are between 60 mm and 80 mm in diameter and have a pH not higher than 4.5. With an intense red color, compact and fleshy pulp, and elongated shape they are considered flagship produce in Italian gastronomic culture.
Like home-made preserves
THE SUN, THE SCENT, THE COLOR OF SOUTHERN ITALY: Fior Fiore tomatoes are grown and vine ripened in the traditional Italian way. Only the best fruit are selected and prepared using the slow, intentional methods of the past, to maintain the full aroma, rich color and deliciously sweet and tart taste.
COLLECTED AND PROCESSED WITHIN A DAY: Fior Fiore tomatoes are picked and processed within the same day - the only way to ensure freshness and authenticity remain intact. From seed to harvest strict quality control ensures each individual tomato is destined for the product line most suited to its quality.
INDIVIDUALLY HAND-SELECTED: Traditional manufacturing processes can often be handled by advanced technologies, however no machine is as discerning as the human eye. That's why each tomato is hand selected and double-checked after peeling, so only the finest, most perfectly shaped tomatoes pass the Fior Fiore quality test.
THE DELICATE MECHANICAL PEELING: Our tomatoes are peeled and prepared slowly and delicately with mechanical precision. We don't use industrial processes such as thermophysical peeling, where fruit is exploded in a high pressure chamber, leaving skin attached to the pulp, leading to nutritional waste. Our tomatoes are velvety smooth and whole, with their robust, fruity aroma fully maintained.
BOILING IN THE "BOULES" : Fior Fiore tomatoes are slow cooked for over an hour, in traditional "boules", for a full bodied, intense tomato flavor and nourishing nutrition just like a traditional homemade preserve.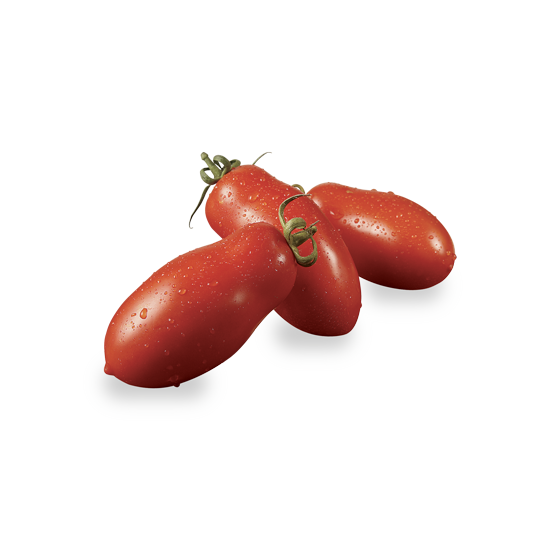 San Marzano whole peeled tomatoes, San Marzano tomato juice, citric acid.
Empty contents into a pan. Heat gently and stir into cooked pasta and serve immediately
| | Nutrition Facts | Per 1/2 cup (125mL) | %Daily Value* | Read more |
| --- | --- | --- | --- | --- |
| | Calories | 31 | | |
| | Fat | 0 g | 0% | |
| |    Saturated | 0 g | 0% | |
| |    Trans | 0 g | | |
| | Carbohydrate | 5 g | | |
| |    Fibre | 2 g | 4% | |
| |    Sugars | 5 g | 5% | |
| | Protein | 2 g | | |
| | Cholesterol | 0 mg | | |
| | Sodium | 12 mg | 1% | |
| | Potassium | 0 mg | 0% | |
| | Calcium | 53 mg | 4% | |
| | Iron | 2 mg | 14% | |
---
*5% or less is a little, 15% or more is a lot. San Marzano: Campania's red gold
Campania is a land of sun, sea and culture, one of the morphologically most diverse regions of Italy, capable of offering enchanting landscapes like the Amalfi Coast.

The city of Naples, the capital of the Campania region, stands in the shadow of Mt. Vesuvius, the active volcano famous for having destroyed the ancient city of Pompeii. Stunningly situated overlooking the Gulf of Naples, every corner of the city is home to works of inestimable artistic and historical value. In fact, Naples multi-layered history is reflected in its architectural marvels like the Cathedral of San Gennaro, famous for its majestic frescoes.

The most interesting historical sites are the sumptuous Royal Palace and the city's landmark medieval castle, Castel Nuovo (or Maschio Angioino).



Vesuvius and Pompeii ruins, Campania.
Average rating:
0 reviews