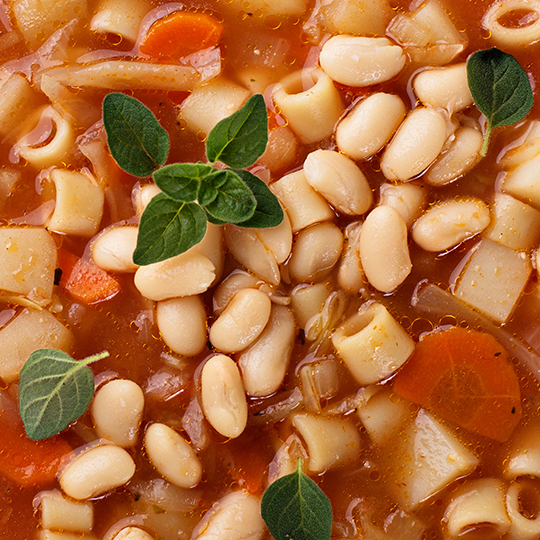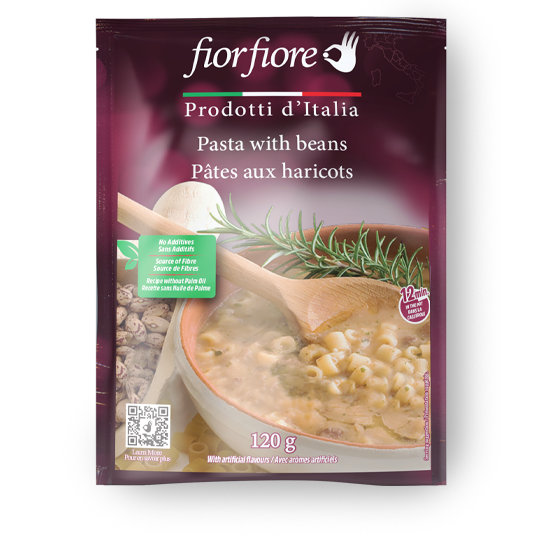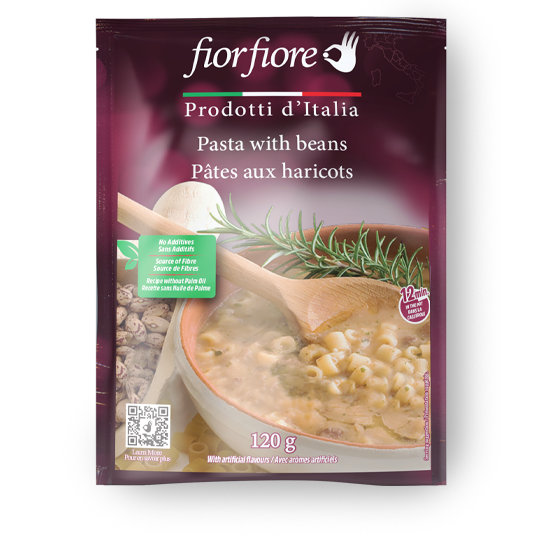 A long-standing recipe that warms the heart and brings people together with its timeless taste. 
A great classic of Italian rural tradition, famed for it's one of a kind flavour. Incredibly tasty, authentic, hearty and fragrant, it's rich in fibre and hence vegan-friendly. Ready on the stove within minutes, and free of additives or palm oil.
THE AUTHENTIC FLAVOUR OF TRADITIONAL ITALIAN RECIPES... WHENEVER, WHEREVER!
FOR THOSE WHO LACK TIME AND AREN'T WILLING TO GIVE UP AUTHENTIC ITALIAN TASTE Only carefully selected, high-quality ingredients without additives or preservatives can bring out the essence of traditional recipes, plain and simple. Awide range of ready-to-heat products, created and designed with convenience in mind. Quick to prepare, thanks to innovative preservation techniques, and oh so tasty!
NO ADDITIVES, PRESERVATIVES OR PALM OIL: JUST PREMIUM INGREDIENTS Fiorfiore Ready Meals contain no additives: this line of products is free of monosodium glutamate, flavourings and preservatives. Nothing but real Italian taste.
AS GOOD AS FRESH Additives with different functions are widely used in the food industry: the most common is monosodium glutamate, a flavour enhancer and an essential component of stock cubes. Its purpose is to "spice up" recipes and sometimes make up for a lack of taste. Unfortunately, this additive dulls all flavours with an equal "base". Without monosodium glutamate, flavour can only be obtained via top-quality ingredients and richer recipes, in order for food to taste as good as fresh.
FREEZE-DRYING: ONE OF THE SAFEST PRESERVATION TECHNIQUES Freeze-drying is among the safest and most advanced modern preservation techniques. It uses a rapid drop in temperature to eliminate water from food while keeping flavours and nutritional values intact, with no need for additives or preservatives.
25 YEARS OF FREEZE-DRIED QUALITY AND PASSION FOR ITALIAN GASTRONOMIC CULTURE Fiorfiore producers specialize in the development and production of quality, ready-to-cook foods containing the best freeze-dried ingredients, selected and brought together to reflect Italian culinary culture. Fiorfiore Ready Meals go through a series of thorough and stringent checks to ensure quality, taste and wholesomeness. Special scanners and auditors ensure that packaged goods contain only the healthy, quality ingredients chosen for recipes.

Certifications:
• Non-GMO with "Bureau Veritas" for polenta
• IFS with "Bureau Veritas": Higher level
• BRC with "Bureau Veritas": Grade A
• Ministerial authorization in accordance with Italian Legislative Decree 27.1.92 no. 111
• HACCP procedures since 1999
• Certified organic by CCPB, no. CZ/CC 03054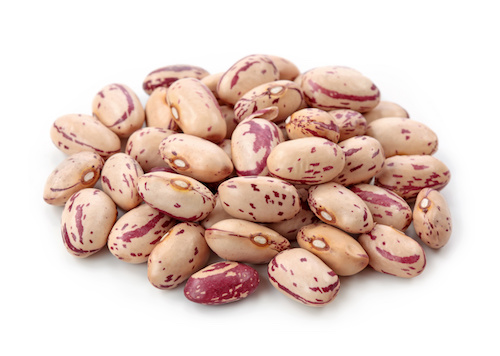 Durum wheat semolina pasta (durum wheat semolina, water), Brown and white beans in pieces and powder, Potato flakes , Wheat flour, Dehydrated tomato, Dehydrated onion, Salt, Yeast extract, Sugars (potato maltodextrin, sugar), Artificial flavours, Dehydrated parsley,Dehydrated rosemary. Contains: Wheat.
Pour the pouch content into a pot with 720ml (3 cups) of cold water.
Bring to boil without lid, stirring occasion- ally.
When water boils, cook on a medium heat uncovered for 12 minutes for a pasta al dente (italian Style), or 14 minutes if you prefer more soft pasta. Adjust with salt, pepper and extra virgir olive oil as you prefer.
| | Nutrition Facts | Per 1/2 pack (60 g) | %Daily Value* | Read more |
| --- | --- | --- | --- | --- |
| | Calories | 190 | | |
| | Fat | 0.5 g | 1% | |
| | Saturated | 0 g | 0% | |
| | Trans | 0 g | 0% | |
| | Carbohydrate | 36 g | | |
| | Fibre | 8 g | 29% | |
| | Sugars | 8 g | 8% | |
| | Protein | 9 g | | |
| | Cholesterol | 0 mg | | |
| | Sodium | 670 mg | 29% | |
| | Potassium | 300 mg | 7% | |
| | Calcium | 30 mg | 3% | |
| | Iron | 1.25 mg | 7% | |
---
*5% or less is a little, 15% or more is a lot The peasant dish of the po valley
Pasta with beans is found in all parts of Italy, and while there are slight variations, each version is a treat for the taste buds. The practice of mixing and cooking beans with pasta dates back to a time shortly after Italy's introduction to beans, which were brought from America around 1530 along with other new crops, such as tomatoes and peppers.

The popularity of this dish grew quickly because of its nutritiousness. Especially in the plains like around Ferrara, it was a go-to meal for farm workers because of its high source of energy, making it a particularly unique dish typical of the entire Po Valley area which, today, is agricultural land. It was known as "pasta in fagioli" and could be eaten very often in the city and countryside alike.

It was even loved by the aristocracy for its unique taste. Nowadays, pasta with beans remains a very popular dish across Italy that's always a pleasure to prepare.

Ferrara, Emilia Romagna.

Average rating:
0 reviews